Fort Worth, Texas — Like his mentor, Roy Williams, TCU basketball coach Neil Dougherty tends to raise his voice at practices and in games.
"He yells at everybody," quipped Dougherty's son, Neil, a former Free State High standout who now is a backup point guard for his dad's Horned Frogs, who will play host to Kansas in a 10 p.m. tipoff tonight at Meyer Coliseum.
"The thing with me is, he doesn't have to yell at me as much. I know what he is going to say before he says it. He screams my name and I say, 'Yeah, I know' and go ahead and do what he wants."
The former Firebird, who has played 16 minutes total and scored three points in his first two college games for 1-1 TCU, answers to several names besides Neil.
Though not technically a Jr. -- his dad's first name reads Cornelius on his birth certificate -- the younger Dougherty nonetheless has been accorded his own identity.
"My dad will call me Bub, short for Bubba," said Dougherty. "My teammates think he's saying Bud. They call me 'Deuce,' like 'The Second.'''
The Doughertys will need no introduction to the Jayhawks tonight. Neil Dougherty assisted Williams for seven seasons before landing his first head-coaching job before the 2002-03 season. He replaced Billy Tubbs, who left to become athletic director -- and now basketball coach/AD -- at Lamar.
"I know all of (the Jayhawks), even the freshmen," said Dougherty, technically listed as a walk-on who receives free tuition since his dad is an employee of the school.
"I never knew David (Padgett), but I played against all the other ones. It's always fun to play someone you know. It's why it was always fun to play Lawrence High. You know all those guys. You hate to lose to friends."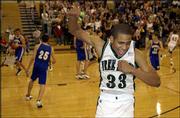 Dougherty admits it will be strange playing against a program he followed so closely for several years. Prior to entering Free State High, he would sit on the end of KU's bench during games.
"To get to be in one of coach Williams' huddles ... you have to listen," said Dougherty, who chose TCU over Princeton and Yale. "I'd try to listen to what the coaches said and try to use it in my games."
He also would hang out at KU practices.
"One thing I liked to do the most was go and watch pickup games when the professionals would come back," Dougherty said of KU alumni in the NBA. "Once or twice I even got in the games. It was my sophomore year. I jumped out there."
Dougherty said it was eye-opening playing against Jayhawks like Keith Langford, Aaron Miles and Wayne Simien.
"I could always handle the ball, pass and shoot," he said. "No way I could guard any of them. I was not strong enough, not quick enough. I wouldn't turn it over, but I wouldn't try to do too much, either."
The elder Dougherty said he was happy to have his son on board.
"I think he'll help us," he said. "He's still in the growing-pain stage. He's already helped in practice. I think his biggest contribution is helping other players understand me. He'll help us on the court as he learns more and gets stronger."
The young Neil realizes he might be overmatched tonight if he has to guard Miles for any extended period of time.
"I watched the Michigan State game," Dougherty said of KU's 81-74 win over the Spartans. "It was a good game. To tell you the truth, I don't see why they can't be No. 1 because they are so tough and have so much firepower. They can score in transition and down low. They are tough defensively. They get after people."
What must TCU, which fell to Tulsa, 84-72, Saturday in Dallas after pounding UT Arlington, 87-58, in the opener, do to shock KU?
"Probably a lot of things," the younger Dougherty said with a laugh. "The biggest thing is to stay out of foul trouble, make shots and rebound. They're really good."
No matter what happens tonight, TCU will try to benefit from the experience.
"Whatever happens, we will put a positive spin on it," coach Dougherty said. "Just play hard and whatever happens we'll gain something."
Copyright 2018 The Lawrence Journal-World. All rights reserved. This material may not be published, broadcast, rewritten or redistributed. We strive to uphold our values for every story published.