St. Paul, Minn. — A Minnesota teenager known online as "teekid" was arrested and placed on electronic monitoring Friday for allegedly unleashing a version of the "Blaster" computer worm that infected thousands of computers.
U.S. Magistrate Judge Susan Richard Nelson told Jeffrey Lee Parson not to access the Internet or any other network connection as a condition of his release. He did not enter a plea during his initial court appearance.
Parson, 18, admitted during an interview with the FBI and Secret Service agents that he had modified the original "Blaster" infection earlier this month and created a version known by a variety of names, including "Blaster.B.," court papers said. At least 7,000 computers were affected by Parson's worm, prosecutor Paul Luehr said Friday.
Collectively, different versions of the viruslike worm -- alternately called "LovSan" or "Blaster" -- snarled corporate networks worldwide, inundating more than 500,000 computers, according to Symantec Corp., a leading anti-virus vendor. Experts consider it one of the worst outbreaks this year.
All the Blaster variants took advantage of a flaw in Microsoft Corp.'s flagship Windows software.
Parson is the first person arrested in connection with the attack. Investigators would not say whether other arrests were imminent.
Parson's next hearing was scheduled for Sept. 17 in Seattle, where the case was being investigated.
He faces one federal count of intentionally causing damage to a protected computer. If convicted, he could face up to 10 years in prison and a fine of up to $250,000.
FBI and Secret Service agents searched Parson's home in the Minneapolis suburb of Hopkins Aug. 19 and seized seven computers, which are still being analyzed. One remaining computer also will be removed.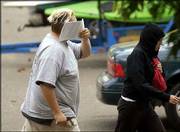 Authorities said Parson told the FBI he built into his version a method for reconnecting to victim computers later.
Investigators said the worm allowed him to access individual computers and people's personal communications and finances.
Parson apparently took few steps to disguise his identity. As a byproduct of each infection, every victim's computer sent signals back to the "t33kid.com" Web site that Parson had registered in his own name, listing his home address.
Copyright 2018 The Associated Press. All rights reserved. This material may not be published, broadcast, rewritten or redistributed. We strive to uphold our values for every story published.