First the sun became unnecessary, and now a pair of Lawrence businesses are out to show that even tanning beds aren't needed to have that fresh-from-the-beach look.
The spray-on tan trend has reached Lawrence. At least two Lawrence businesses recently invested in the equipment that will allow a customer to obtain a golden look in less than five minutes.
"It takes you longer to get undressed and dressed than it does to get a tan," said Mary Ellen Hall, owner of Jamaica Tan, 1540 Wakarusa Drive.
That's because customers don't lay under bright ultaviolet lights to get their tan. Instead, they walk into what looks like a large phone booth, either nude or in a swimsuit. Then, they stand for about 30 seconds in front of a series of nozzles that will spray them from head to toe and from front to back with a chemical tanning solution that instantly turns them a shade of brown.
Hall spent $30,000 to add the spray-on tanning booth when she relocated her full-service tanning salon in early August from 2311 Wakarusa Drive.
A second shop, Glo One Minute Tan, which will offer only the spray-on tan option, is set to open in about two weeks at 847 N.H.
Mickey Stremel, owner of Glo One Minute Tan, said she had been watching the trend for about five years when it started becoming popular on the coasts. About a year ago, the shops started popping up in Kansas City and Topeka.
"I think it is going to work great in Lawrence," said Stremel, who also is a Lawrence real estate agent. "We're a health-conscious town, and this is a healthier way to tan than going out in the sun. The benefits of not laying out in the sun all day are huge."
The spray-on tan doesn't involve UV rays, which have been shown to contribute to skin cancer in some individuals. Hall and Stremel said people shouldn't be worried about the chemicals used in the spray-on tan process.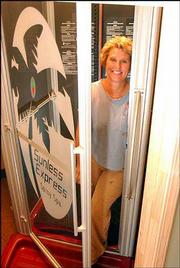 The chemicals include a bronzer, a type of dye, and dihydroxyacetone. Both chemicals have been used in cosmetics for years, according to brochures put out by the machine's manufacturers.
The process costs from about $20 to $30, and the tan lasts for about a week. That makes it more expensive than traditional tanning beds, which range from about $8 to $10 for a 15-minute session. Other downsides are that the tan quickly fades in a chlorinated pool, and it offers no protection from the sun.
Stremel, whose shop will have two of the booths, said she thought the new wave in tanning would appeal to a variety of people, including those who have developed skin conditions or have naturally fair skin and burn easily. People looking for a quick tan for a wedding or other special event also are expected to be a large market.
Hall said her business had seen a steady stream of customers using the booth, especially young college-aged women who are more aware of possible sun-related skin problems.
"I think it is a good business to be in because our youth are growing up shunning the sun more than we ever did," Hall said.
Copyright 2018 The Lawrence Journal-World. All rights reserved. This material may not be published, broadcast, rewritten or redistributed. We strive to uphold our values for every story published.