Moses had no idea how much trouble he was starting when he brought those stone tablets down from Mt. Sinai.
Thousands of years later, the code of conduct engraved on the tablets -- the Ten Commandments -- is still causing controversy. Much of the nation is riveted.
A battle came to a head this week in the state judicial building in Montgomery, Ala., as Chief Justice Roy Moore refused to back down from a federal judge's order he remove a 5,300-pound granite monument of the Ten Commandments from public view in the rotunda. On Wednesday, the monument was wheeled to a storage area.
The conflict has re-ignited arguments about the doctrine of separation of church and state in America, raising questions about the role religion should play in public life. Moore's backers say he is merely upholding his oath of office, which he interprets to mean the acknowledgment of God as the cornerstone of the country's judicial system. Opponents contend the monument represents Moore's efforts to use his authority to impose his own religious beliefs where they don't belong.
Members of the clergy who serve Lawrence have been following these events closely, and they have varied opinions on what ought to happen to that granite block in Montgomery.
Better ways to express faith
The judge's defiant stance, and the resulting escalation of the conflict, doesn't make much sense to the Rev. Thad Holcombe, director of Ecumenical Christian Ministries, 1204 Oread Drive.
"What troubles me is that to make an issue out of a stone monument is rather ironic in Alabama, considering what's happening with their governor's request that there be tax relief given to the poor and more taxing of the wealthy. The reason for his request is in part out of a faith commitment that he holds," Holcombe said. "The irony is, it seems to me, the judge would find a better way to express the Ten Commandments rather than having an argument over a stone monument."
Holcombe said he believed Moore was mistaken in the stand he's taking, injecting his religious beliefs into the carrying out of his public duties.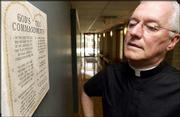 "We've got all these faith perspectives in this country, and he's assuming that the Constitution is based on a Christian faith perspective, which is not the case," he said.
Still, Holcombe said he wished the debate over the monument, and all the attention being paid to it, would shift to something more pressing.
"Move on, judge, to more important issues, which is enforcing the Constitution instead of wrangling where the monument should be," Holcombe said.
Accountable to God
Like Holcombe, the Rev. Paul Gray believes the energy spent on arguing over the monument should probably be directed elsewhere.
"I think they're making way too big a deal out of this particular circumstance. It seems to me like there are a lot more important things for both sides to be concerned with," said Gray, senior pastor of Heartland Community Church, 619 Vt.
That said, Gray indicated he believed Moore wasn't in a position -- even in terms of his faith convictions -- to defy a federal judge's order that he remove the Ten Commandments from the judicial building.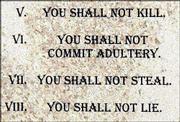 "As Christians, the Bible tells us in the Book of Romans to obey the authorities, the government authorities that are in place. If the law says he should remove them, then as Christians, we don't have a choice," Gray said.
But all the debate about separation of church and state, in this instance, is off the mark, according to Gray.
"People (opposing Moore) are using that as the crux of the issue, but in reality, if someone doesn't want to have the Ten Commandments visible, I think the underlying motive is they don't want to be held accountable to a holy God," Gray said. "Why would anyone not want to have something up that says, 'You shouldn't lie,' unless they want to be able to lie and not be held accountable. Same is true with adultery, murder and stealing."
Serves as reminder
The standoff over the Ten Commandments represents a deeper trend in society, according to the Rev. Vince Krische.
"Our country has changed into a purely secular culture, and that's what's troubling to me, because if you're in a secular culture, it's concerned with temporal realities and the material (world) instead of the eternal and spiritual," said Krische, director of St. Lawrence Catholic Campus Center, 1631 Crescent Road.
"I think that we have moved away from some of the founding principles of our country."
He said he would not have a problem if the monument were to remain where Moore put it.
"I think that much of the Ten Commandments are already in place in our legal system. It works out to be the same as any reminder that we have. You go to many monuments, they will inscribe the ideals of the person it's honoring or the ideal of the nation. They're reminders," Krische said.
But are two tons of granite, inscribed with the Ten Commandments, really necessary in a state judicial building?
"Moore is saying that morality flows from God; that's his whole basis of wanting that statue there. I'm certainly in agreement with that, but I don't know that you need the Ten Commandments on the steps of the courthouse to get that point across," said Rabbi Scott White of the Lawrence Jewish Community Center, 917 Highland Drive.
"I think it can be appreciated in the abstract. It's not worth lowering the wall of separation between church and state to make a point that is sufficiently evident in people's minds and what they're hearing in their religious institutions."
Copyright 2017 The Lawrence Journal-World. All rights reserved. This material may not be published, broadcast, rewritten or redistributed. We strive to uphold our values for every story published.