Kansas City, Mo — Darrell May pitches perhaps his finest game as a major leaguer. Newcomer Rondell White comes within inches of his first inside-the-park home run.
It's been that kind of season for the Kansas City Royals, who pounded Texas 9-0 Wednesday night to keep pace with Chicago in the American League Central.
"It's unbelievable to me," said May, who had a career-low five-hitter and threw the Royals' first complete-game shutout in over a year.
White, in his first appearance for Kansas City since being acquired Tuesday from San Diego, drove in four runs with a sacrifice fly, a two-run single and an RBI triple that was almost a home run.
Only a great relay throw by Texas second baseman Michael Young cut down the sliding White at the plate.
"I was coming around third base with a piano on my back," said White, who started in left field. "When I came around third base, the legs just gave up. I almost got in there."
May (8-6) struck out three and walked one in the Royals' first complete-game shutout since Paul Byrd beat Anaheim, 4-0, July 13, 2002.
The left-hander got into a bases-loaded jam in the second inning but retired Young for the third out and set down 22 of his next 24 batters.
"I feel like I've been throwing the ball well as of late," said May, who has won his last three starts. "The last game against Minnesota for the first two or three innings, I felt like I threw the ball as well as I had this year."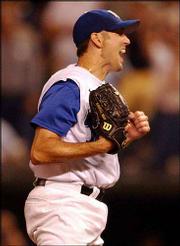 It was the fourth complete game for May. He had a 6-0 shutout June 11, 2002, against Florida in a game called after five innings because of rain.
He's 8-2 in his last 13 starts after snapping a streak of 16 starts and 19 appearances without a win, dating to the 2002 season.
"You have to tip your hat to May," Texas manager Buck Showalter said. "He had command of the game even though we had the bases loaded there."
White had a two-run single in the four-run first inning off Colby Lewis (6-9) in his first at-bat.
"That was the ice-breaker right there," White said. "I was pretty nervous before the game. But, the guys kept me loose."
In the four-run second, White's liner got past right fielder Marcus Thames.
As White got up and dusted himself off after the RBI triple, the crowd gave him a standing ovation.
"I really appreciated that," he said. "I could hear it. But mainly I was trying to catch my breath."
White later had a sacrifice fly as the Royals won for the fourth time in five games after losing six of seven to drop out of first place. The victory kept them one game behind front-running Chicago.
"They're playing with a certain sense of urgency with every at-bat and every pitch they throw," Showalter said. "They know the games are dwindling. There's a sense of urgency and finality of the season and they're certainly playing well."
Lewis went 1 1/3 innings and was charged with seven runs on five hits and three walks. He walked the first two batters in the first, then gave up RBI singles to Mike Sweeney and Carlos Beltran before White lined a two-run single into center in his first at-bat with the Royals.
Joe Randa had an RBI double in the second, then went to third on Sweeney's single. Joaquin Benoit relieved and gave up an RBI groundout to Beltran. After Raul Ibanez's RBI double, White's RBI triple brought the crowd to its feet and made it 8-0.
White's sacrifice fly made it 9-0 in the seventh.
Notes: The start was delayed 26 minutes by rain, a welcome sight amid one of the worst droughts the area has experienced in years. ... Beltran made two outstanding plays in center field, catching Shane Spencer's drive in the fourth inning as he banged into the wall and making a running catch of a drive off the bat of Thames in the fifth.
Copyright 2018 The Associated Press. All rights reserved. This material may not be published, broadcast, rewritten or redistributed. We strive to uphold our values for every story published.