Jonathan Lamb doesn't have a scholarship, but the red-shirt freshman from Olathe North has a starting assignment for Kansas University's season opener Saturday against Northwestern.
"Obviously, the first college game I'm a little nervous," said Lamb, who will have more than a dozen family members in the stands at Memorial Stadium. "I'm definitely excited."
continued from page 1c
Lamb (6-foot-2, 192 pounds) joined KU as a preferred walk-on last fall after a standout prep career at Olathe North.
As a defensive back and free safety, Lamb helped the Eagles win the Sunflower League and Class 6A state championship as a junior. North repeated both feats in 2001 with Lamb starting at quarterback and defensive back.
"It helped me realize how important winning is and what a winning attitude is," Lamb said.
Despite the Eagles' success, Lamb was overlooked by major colleges. He had scholarship offers from Division II and NAIA schools, but walked on at the school he had rooted for while growing up in Johnson County.
"We were on Jon early," KU coach Mark Mangino said after Wednesday's practice. "We felt like he was a kid who had a chance to be a Division One player. There were some things on tape that really popped out at me and the coaching staff."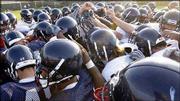 Lamb took a red-shirt year last season and gained 15 pounds in KU's strength and conditioning program.
He was nowhere to be found on KU's post-spring depth chart, but he'll start Saturday night ahead of sophomore junior-college transfer Rodney Fowler.
"Jon is a very conscientious young guy," Mangino said. "He is a student of the game. He is very sharp intellectually. He is better physically and is working hard in the weight room. He has improved his speed and his strength.
"This is a great challenge for him and he will be out there, and I think that he will respond. He is the type of kid that is so smart that he won't make mental mistakes. When you are fielding a young ball club you need as many guys out there that understand what to do more than anything else."
Lamb won't be paying his own way for long -- Mangino said Lamb likely would be given a scholarship for second semester.








Athletic supporters: As of Tuesday, Kansas had sold 25,700 tickets for Saturday's game, which falls on Labor Day weekend.
KU's players aren't concerned about the size of the crowd.
"We play for each other," senior offensive lineman Danny Lewis said. "We're more worried about the guys in the locker room. (Fans) will catch on."

Glad to be back: Having completed his fourth switch among three positions in two seasons, sophomore Nick Reid said he just "loves to play," no matter his spot on the field.
The 6-4, 220-pounder from Derby will start at linebacker Saturday after playing defensive back in spring drills and the early part of preseason practices. Reid played linebacker last season.
"I tried to get right back into it," Reid said. "Linebacker is all about playing downhill, playing reckless. You get to hit people every play. That's fun."
Reid came to KU as a quarterback last summer, moved to defensive back in the preseason and ended up playing a vital role at linebacker. He lost weight to play defensive back this season, but Mangino moved him back to linebacker.
"I'm trying to put it back on again, but it's hard with this heat," said Reid, who wants to play at 230 pounds.

On the air: Mangino's weekly radio show will make its season debut at 6:06 tonight on the Jayhawk network.
Copyright 2018 The Lawrence Journal-World. All rights reserved. This material may not be published, broadcast, rewritten or redistributed. We strive to uphold our values for every story published.