Chicago — A man who had been fired from an auto parts warehouse six months ago came back with a gun Wednesday and killed six people in a rampage through a maze of engine blocks and 55-gallon drums before being shot to death by police.
The dead included two brothers who owned the business, and one of their sons.
Salvador Tapia died in a gun battle he waged with police inside and outside of the building, hiding behind a container as he fired off rounds from his semiautomatic pistol, authorities said.
"We saw a guy shooting at police officers outside the building and saw people running around like crazy," said Al Martinez, who owns a business a half-block away. "We came and saw all the cops running, hiding behind cars."
Tapia, 36, lost his job at Windy City Core Supply about six months ago for causing trouble at work and frequently showing up late or not at all, acting Police Supt. Phil Cline said. He said Tapia had made threatening calls to the owners since being fired.
The business' third owner, Robert Bruggeman, was not in the building at the time of the shooting. Bruggeman has an unpublished telephone number and could not be reached for comment Wednesday.
Tapia had at least one previous conviction for unlawful use of a weapon, officials said.
Cline said when police arrived shortly after 8:30 a.m., they tried to get in the building but were driven back by gunfire. He said when an assault team entered the building they had trouble maneuvering through all the auto parts.
He said four people died at the scene. Tapia and two others died at hospitals.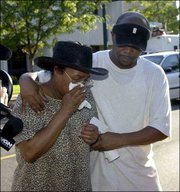 Copyright 2018 The Associated Press. All rights reserved. This material may not be published, broadcast, rewritten or redistributed. We strive to uphold our values for every story published.