A return to old-fashioned, fun, inexpensive games such as four-square, hopscotch, jacks and jumping rope might help reverse a trend toward childhood inactivity that's triggering huge increases in pediatric obesity and type 2 diabetes, say recreation and fitness experts.
Blame it on a shortage of sidewalks, busy parents or reluctance to let children roam freely, but home-schooled children aren't the only ones not learning how to play traditional sidewalk games.
Physical education teacher Shelly Raemer, president of the Colorado Association of Health, Physical Education, Recreation and Dance, says that two years ago, when an elementary school opened in Douglas County, Colo., only one child in any of her classes knew how to play hopscotch, and only about a quarter of the children had played four-square.
"It's a shame, because these games are all great for children," Raemer said. "Hopscotch builds core strength and balance. Jump-rope burns the same number of calories in 10 minutes that it would take 30 minutes of running to burn. Even jacks helps kids with strategy, physical confidence and eye-hand coordination."
The Children's Museum of Denver offers outdoor classes with old-fashioned games as a way to promote gross motor skills, teamwork and cognitive thinking abilities. By encouraging parents to play the games they played as children with their own kids, the museum hopes to fuel a renaissance in sidewalk games, says spokeswoman Alaina Green.
"Sometimes no one thinks of these games because there's no ad campaign for four-square," Green said. "But this isn't about fancy, expensive toys. It's about sharing traditions and spending quality time together."
Jim Silver, co-publisher of Toy Wishes magazine, which is known for its "hot dozen" toy list, agrees that parents should teach children basic recreational skills they can use throughout their lives.
"It's a parent's responsibility to go outside with their children and teach them how to play," Silver said. "Skate with them. Play ball with them. The sidewalk chalk to draw a hopscotch grid doesn't cost very much, but money doesn't buy fun and it doesn't buy coordination. Only time and attention can help."
Parents may need to help children find playmates once they have the basics down, says Marilyn Day, co-director of the preventive program for cardiology at Children's Hospital of Denver.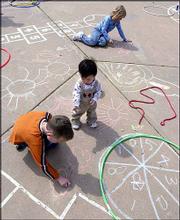 "Children need to spend lots of time playing, and parents aren't likely to be able to keep them company," Day said. "But no child is going to go out to the front sidewalk alone, draw a grid and play hopscotch for hours. Adults may be OK jumping rope or running by themselves for exercise, but children won't."
"It's too bad that so few children live in neighborhoods where children can get together in the front yards and play for hours," Day said. "If you live in a neighborhood like that, do your best to get the children together. If you don't, find a day camp or a recreation center or a YMCA where your child can play with other children."
Raemer says it's most important for children to learn to think of exercise as fun.
"My greatest hope is that in 15 or 20 years, my students will choose to be physically active because they enjoy it. Parents should be hoping for the same thing for their children."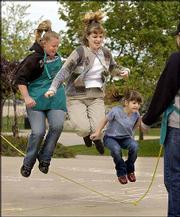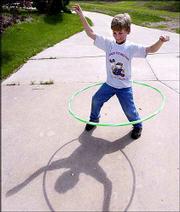 Copyright 2018 The Lawrence Journal-World. All rights reserved. This material may not be published, broadcast, rewritten or redistributed. We strive to uphold our values for every story published.