Minneapolis — The Kansas City Royals are playing with the confidence of a division winner.
Aaron Guiel hit a three-run homer off Joe Mays in the fifth inning as Kansas City beat the Minnesota Twins for the second straight night, 4-3, Saturday.
"We just keep coming," K.C. manager Tony Pena said.
The Royals trailed 3-0 and were getting outhit 9-1 after three innings.
"I was sitting on the bench," Guiel said, "and I hear Tony joking around, 'Hey, we've already given up three. They've got 10 hits. We're going to get 'em."'
Guiel, who entered the game with two hits in his last 18 at-bats, went 2-for-4 for Kansas City as the Royals stayed within a game of the Chicago White Sox in the AL Central race.
Luis Rivas homered for Minnesota, which fell 2 1/2 games back.
"We just couldn't find ways to get guys in," catcher A.J. Pierzynski said.
After Jeremy Affeldt closed Friday's win with 2 1/3 perfect innings, Kansas City's bullpen again refused to budge.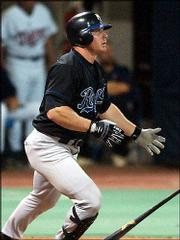 D.J. Carrasco (5-4) scattered three hits over four innings after starter Jose Lima was removed, and Mike MacDougal pitched the ninth, getting Rivas to ground into a double play for MacDougal's 26th save in 33 chances.
"Our relief pitchers have been the key," Pena said. "Our bullpen is very stable right now."
Pena had Curtis Leskanic warming up just in case after the rookie MacDougal -- who has had his share of shaky innings and has just two saves in the second half -- walked the leadoff man, pinch-hitter Mike Ryan.
"I was just like, 'Well, I'll get the next guy, I guess,"' MacDougal said.
The Royals improved to 11-7 against the Twins despite being outscored 103-84. The two teams play again this afternoon for the final time this season. Their last four meetings have been decided by one run.
"A break here or break there, and we win all three or we lose all three," Pierzynski said. "This is what it's all about. It's where the best team wins."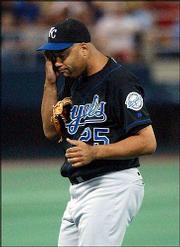 Lima, who went 7-0 in his first eight starts after his contract was purchased from Triple-A Omaha June 15, left with a 4-3 lead despite giving up 10 hits over four innings and 69 pitches.
Carrasco came out to start the fifth -- costing Lima a chance at his first victory since July 27.
"If I was selfish, I ask Tony to leave me in one more inning so I can get the win," Lima said. "It's not about Lima, Lima, Lima. It's about this team, 25 guys together."
The Twins stranded five runners in the first three innings against Lima and didn't score in the fourth when Chris Gomez led off with a double and moved up on a balk.
After Shannon Stewart grounded out to third, Joe Randa made a diving snag of Rivas' liner and in the same motion slapped his glove on the bag to complete the double play.
"Nobody is going to feel sorry for us for certain plays, lineouts or stuff like that," Gomez said. "You can only worry about what you can control."
Mays, sent to the bullpen after another rough outing on July 5, made an emergency start when Rick Reed was scratched on Aug. 12. In his first official return to the rotation, things started smoothly.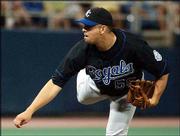 Mays (8-8) needed only nine pitches in a 1-2-3 first inning and faced the minimum through three. Guiel started the fourth by doubling and scoring on Randa's bouncing single up the middle, and a single by Carlos Beltran put runners at first and third with one out.
But Mays got Raul Ibanez on a popup, struck out Ken Harvey and sprinted off the mound with a 3-1 lead as the crowd of 37,782 -- the Twins' third-largest this year -- screamed its approval.
The Royals, though, roared back in the fifth when Guiel homered to right-center field, his 11th, with two on and one out. Grant Balfour finished with four shutout innings after Mays gave up seven hits and four runs in five innings.
"He made one mistake all game," Pierzynski said, "and we paid for it."
Notes: Rivas is 4-for-7 off Lima in his career. ... The Royals are 42-1 when allowing three runs or less. ... Minnesota's Torii Hunter is batting .170 (18-for-106) over his last 27 games. ... Lima has given up nine runs in two starts -- eight innings -- since spending 16 days on the disabled list with a strained groin.
Copyright 2017 The Associated Press. All rights reserved. This material may not be published, broadcast, rewritten or redistributed. We strive to uphold our values for every story published.