Three Forks, Mont. — Between the grandeur of Glacier National Park on its northern border and the steaming, surreal landscape of Yellowstone to the south, Montana has seemingly endless byways for visitors who enjoy history, geology or the artistic vagaries of weather.
There's no need to camp, hunt, fish, ski, kayak, hike or climb to appreciate a state that also is replete with battlefields, old mining camps, ghost towns, local museums and American Indian culture.
Many of Montana's cities strive to preserve their 19th-century flavor, and among the area's cottage industries are "health mines," which once produced gold, silver and copper but now draw thousands of mostly elderly visitors who believe that radon, a naturally occurring radioactive gas, will help their arthritis or other ailments.
A wet spring turned Montana into a vast green park earlier this summer. Nowhere was this more evident than in Paradise Valley, the 53-mile stretch of U.S. Highway 89 between Livingston, Mont., and Gardiner, the northern gateway to Yellowstone (which is mostly in Wyoming). The road follows the north-flowing Yellowstone River through emerald ranchland flanked by the 10,000-foot Gallatin and Absaroka (pronounced Ab-sor-kee) ranges.
Motorists will necessarily spend many hours on the road in a state where the locals might drive 100 miles just to have dinner. But any trip is worthwhile; in Big Sky country, it can be challenging to find a highway that doesn't meet the definition of scenic. Gazing at a distant, snowcapped horizon, however, can easily cause drivers to miss the turnoff to a local point of interest.
While planning these stops in advance, it's also important to check the weather and road conditions. As late as June this year, snow temporarily closed some roads in Yellowstone, as well as that part of U.S. Highway 212 called the Beartooth Highway, whose switchbacks climb to 10,000 feet between Cooke City and Red Lodge, Mont. Beartooth has been called the most breathtaking 60-mile drive in America.
'Corps of Discovery' sites
Among the history-minded, the bicentennial of the Lewis and Clark expedition of 1804-06 has spurred a surge of interest in their epic journey to find out just what President Thomas Jefferson had bought in the Louisiana Purchase.
Montana abounds in sites bearing the explorers' names -- or named by them. While not all are of equal significance, most are unsullied by commercialization and underwhelmed by crowds.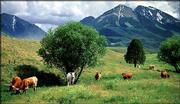 Among the most interesting and important is the site near Three Forks, south of Helena, where the "Corps of Discovery" reached the first major objective of the trek -- the origin of the Missouri River they had followed for 14 months and 2,300 miles from St. Louis.
Arriving here on July 25, 1805, Lewis and Clark discovered the confluence of three small rivers, named them for Jefferson ("the author of our enterprise"), Secretary of State James Madison and Treasury Secretary Albert Gallatin. Then, Lewis and Clark followed the Jefferson toward what is now Idaho, bound for the unknown beyond the mountains to the west.
In 1976, Montana created the Headwaters of the Missouri State Park as its national bicentennial site. Apart from its pathways and interpretive exhibits, the setting remains much as the "two captains" found it 200 years ago -- even the riverbank where they had breakfast.
In such byways, too, there are surprises. One day earlier this summer, visitors were startled to see a tall, burly figure in buckskins carrying two long rifles and other frontiersman gear.
Elsewhere he might have been a Disneyland version of Davy Crockett; here he was Jim Kirsch, a Bureau of Land Management ranger preparing to give a lecture on Lewis and Clark firearms to a group of history teachers.
National Park Service: Visit www.nps.gov or call (303) 969-2500.Montana Tourism: Check out visitmt.com or call (800) VISIT-MT.Bureau of Land Management: Visit www.mt.blm.gov or call (406) 896-5000.
His weapons were replicas of a Kentucky rifle and a vintage 1804 Harpers Ferry musket, a number of which may have been made especially for the expedition at the U.S. arsenal in Virginia.
"We can assume that Jefferson had enough influence to make that happen," Kirsch said.
A bold signature
Another Lewis and Clark site not to be missed is Pompey's Pillar National Monument, 24 miles east of Billings -- a former mining and railroad center that became Montana's largest city (population 131,000) when nobody was looking.
Rising out of the fields along the Yellowstone River a mile north of Interstate 94, this 200-foot sandstone butte is carved with the graffiti of two centuries, most notably the inscription, "Wm Clark July 25th, 1806."
The explorers having divided their corps into two groups on the return trip home, Clark stopped here on that date -- exactly a year to the day after finding the Missouri headwaters, as it happened. He climbed the butte to take surveying measurements, then carved his name into its face.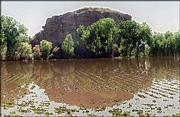 The bold signature, today protected by a locked, shatterproof glass shield, is the only known physical evidence of the Lewis and Clark expedition.
In his journal, Clark wrote that he named the rock after "Pomp," the nickname of Jean Baptiste Charbonneau, the infant son of his Shoshone Indian interpreter Sacagawea. He also noted that previous visitors "have engraved on the face of this rock the figures of animals &c; ..."
While many of the other names are no longer legible, signs warn modern-day visitors that defacing the rock is a federal offense, subject to a $10,000 fine.
Atop the pillar, reached by a wooden stairway, Bureau of Land Management ranger Suzy Havener provides an informative account of Clark's visit, and points out a nearby bend in the river where Lt. Col. George A. Custer's 7th Cavalry camped during an 1873 expedition, three years before the Battle of Little Bighorn, 35 miles to the south.
Like other sites managed by the National Park Service or Bureau of Land Management, Pompey's Pillar has a visitor center and other facilities.
Copyright 2018 The Associated Press. All rights reserved. This material may not be published, broadcast, rewritten or redistributed. We strive to uphold our values for every story published.