New York — Mary Quant, known as the mother of the miniskirt, won't have to do much shopping this year since many of the mod styles she created back in London's swinging '60s are back in stores.
All the black-and-white geometric prints, the tiny skirts paired with brightly colored tights, A-line jumpers and short coats "all do look a bit familiar," Quant says. "It's funny and lovely."
After a few seasons of the fashion world taking itself too seriously, Quant, now 69, is pleased to see such upbeat fall collections. "Fashion should be playful and fun. It should look happy. ... Fun should always be there," she says.
Quant, interviewed by phone from her London office, still produces her own ready-to-wear collection and a cosmetics line. There are freestanding Mary Quant boutiques in Japan, London, Paris and New York, and her wares also are available at the Manhattan retailer Henri Bendel; she hopes to expand availability in the United States during the next few months.
The difference between fashion in the 1960s and the 2000s comes down to revolution versus evolution, she says.
Quant believes the changes back then were the result of a youth culture that had felt repressed in Europe's grim post-World War II era when there were "no sweets, no paints and no eggs."
"The grown-ups sat around, waiting for their prewar life to return, and there was nothing for the young.
"We, the young, felt so fed up we just got up and did it ourselves, and no one told us 'No.' I think this is why the revolution started in London and spread across theater, art, food, music, photography, dance and design and the whole way of life," says Quant.
Until she opened her artist's box to do her makeup, Quant says she had been limited to blue, green or mauve eye shadows and red, pink and orange for her lips and nails. But the colors of her paints and crayons paved the way for a whole new rainbow that included yellow, white, brown, gold, silver and plum.
"I wanted to bring 'fashion' into cosmetics. I didn't use a different era (for inspiration); I used tomorrow," Quant says.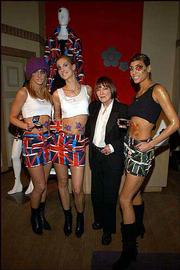 Nowadays, people already have the "modern" clothes and cosmetics they want, so the changes from year to year can be more subtle, shifting only as tastes do, she explains.
If she were to do a little shopping this fall -- a likely thing, she notes -- Quant would take advantage of the season's mixture of the masculine looks with feminine details, such as a men's-style shirt done in chiffon.
Her favorite colors at the moment include chrome yellow, prune, gray, orange and black and white. Always black and white.
"I see black and white as the canvas," Quant says, with "great shoes, great accessories, great leggings" piled on top that vary with individual tastes, shapes and budgets.
There are certain staples, though, that every woman should own, according to Quant:
A magnifying makeup mirror. "You'll do your makeup twice as fast. But you do have to get used to that big image first."
White button-down shirts. "They are so flattering. I always have some in my wardrobe. Sometimes they're fitted, sometimes they're looser and sometimes they're shorter, depending on the trend."
White and black pants. They're the first step when you get dressed each day. Buy them in both extreme and classic shapes, she advises.
Tops with thick, bold stripes. "They're always worth having because they are easy to wear."
Copyright 2018 The Associated Press. All rights reserved. This material may not be published, broadcast, rewritten or redistributed. We strive to uphold our values for every story published.