Washington — Forty years after Martin Luther King Jr. eloquently captured the struggle of black Americans for equality, civil rights activists called Saturday for his dream to be realized.
His vision of a land where little black boys and girls in the South would one day hold hands with little white boys and girls was remembered by thousands of people who gathered on a warm summer day to celebrate King's "I Have a Dream" speech.
"Despite the progress we've made during the last four decades, people of color are still being denied a fair share of employment and educational opportunities in our society," said his son, Martin Luther King III.
Speaking to a few thousand people gathered on the steps of the Lincoln Memorial, King said it was a day to honor the hard work of all those behind the 1963 march. It also represented, he said, a moment of realization that much work lies ahead.
To mark the coming 40th anniversary of the March on Washington, King's widow, Coretta Scott King, urged the crowd to follow the peaceful path that her husband preached.
"We must make our hearts instruments of peace and nonviolence because when the heart is right, the mind and the body will follow," she said.
Mrs. King stood on the memorial's granite steps, looking out over the Reflecting Pool, in the same spot where her husband delivered his powerful appeal to a throng of 250,000.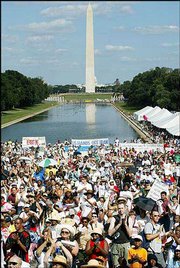 Copyright 2018 The Associated Press. All rights reserved. This material may not be published, broadcast, rewritten or redistributed. We strive to uphold our values for every story published.