Bristol, Tenn. — Kurt Busch avoided any postrace punches, but was in the middle of the usual bumping and banging in yet another win at Bristol Motor Speedway Saturday.
Busch, punched in the face by Jimmy Spencer after last week's race in Michigan, kept his head held high amid a flood of criticism from his competitors, raucous booing from the fans -- and of course, the chipped tooth and swollen nose Spencer gave him.
He instead put his focus on the Sharpie 500, running away from Kevin Harvick to score his fourth win of the season and third in the last four races at Bristol.
But it didn't come without controversy.
Busch spun out Sterling Marlin midway through the race as he tried to pass Marlin for second place, and knew immediately it didn't help his cause.
"I look like an idiot again," he said.
Maybe so, but it didn't really matter how he looked once he got to Victory Lane.
Harvick finished second in a Chevrolet, never able to challenge Busch after he passed him for the lead 120 laps from the finish.
"I hate losing to Rubberhead," Harvick said, not masking his disdain for Busch.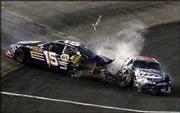 Rookie Jamie McMurray was third in a Dodge, Winston Cup points leader Matt Kenseth was fourth in a Ford and Jimmie Johnson rounded out the top five in a Chevrolet.
Busch came to Bristol as Public Enemy No. 1, somehow becoming the villain in his spat with Spencer.
The feud started here in April 2002, when Busch bumped past Spencer for his first career victory. There have been other skirmishes since, and it blew up last week when Busch intentionally tried to flatten Spencer's fender during the race.
Spencer then punched him in the face as Busch sat in his car. Spencer was suspended from Saturday night's race and Busch was placed on probation.
Busch was greeted by "Free Jimmy" T-shirts and criticism from his competitors.
"He's a cocky, arrogant, punk," Harvick said after the race. "He just has a really, really bad attitude. But he can wheel a race car."
Copyright 2018 The Associated Press. All rights reserved. This material may not be published, broadcast, rewritten or redistributed. We strive to uphold our values for every story published.