San Francisco — Bobby Bonds, one of the first major leaguers to blend home-run power with base-stealing speed and the father of one of baseball's greatest sluggers, died Saturday. He was 57.
Barry Bonds' father had been ill for nearly a year fighting lung cancer and a brain tumor, but he never lost his love for baseball. He was at Pacific Bell Park Wednesday night, watching his standout son and the San Francisco Giants.
Bobby Bonds died shortly before 11 a.m. CDT, a Giants spokesman said.
Barry Bonds, who leads the majors with 39 homers, will be away from the Giants indefinitely. He left the team for five days during a road trip last week to be with his father.
"It's a very sad day, but I want to remember him the way he used to be, having a good time and making jokes," said Hall of Famer Orlando Cepeda, Bonds' longtime friend and former teammate. "I'm happy that he's resting in peace."
Bonds' health had been in decline for many months. In early June, he spent time in the hospital while fighting pneumonia. He underwent surgery on a brain tumor in April and also endured many rounds of chemotherapy.
Bonds, a three-time All-Star and the MVP of the 1973 game, hit 332 home runs and stole 461 bases for the Giants, New York Yankees, Angels, Chicago White Sox, Texas, Cleveland, St. Louis and the Cubs.
He began his career with a bang, hitting a grand slam in his first game June 25, 1968. He's the only player in the modern era to accomplish that feat.
Bonds hit his last home run Sept. 24, 1981, for the Chicago Cubs -- he connected against Jesse Orosco, still playing for the New York Yankees.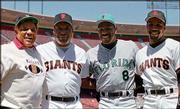 Bobby Bonds was a dazzling player who approached every aspect of the game with aggression -- for better and worse. He led the majors in strikeouts three times in his first six seasons, setting the single-season record with 189 in 1970.
"When I pitched against him, I loved to watch him swing at those high fastballs," Hall of Famer Tom Seaver said. "He used to tease me and say, 'Listen, when I go to the American League, you'll lose three strikeouts a game.'"
Bonds hit .268, had 1,024 RBIs and won three Gold Glove awards as an outfielder -- and his combination of power and speed was nearly unmatched.
Though he often was overshadowed by close friend and longtime teammate Willie Mays, Bonds became the fourth player ever to hit 30 homers and steal 30 bases in the same season in 1969 with the Giants.
Mays, Barry Bonds' godfather, was the only player to do it more than once before Bobby Bonds accomplished the feat five times in a 14-year career. Barry Bonds has done it five times; no other player has more than three times.
In fact, Bobby Bonds nearly became the first 40-40 player in the majors. In 1973, he hit 39 homers and stole 43 bases.
He played just one season with the Yankees, but became the first 30-30 player in the team's storied history with 32 homers and 30 steals in 1975.
Bonds played seven seasons with San Francisco, and he was with the organization for 23 seasons as a player, coach, scout or front-office employee. Bonds served as the club's hitting coach from 1993-96, and since then has been a special assistant to general manager Brian Sabean. Bonds was a frequent presence in the Giants' clubhouse, where he often chatted with his son, Mays, Willie McCovey, Cepeda and any other players within range.
Bonds spent his final years enjoying the rise of his son on baseball's career homers list and his development into the game's best active player. Barry Bonds hit extra-inning, game-winning homers against Atlanta Tuesday and Thursday, then rushed from the clubhouse after each blast to be with his father.
Bonds is survived by his wife, Pat; a daughter, Cheryl Dugan; and three sons: Barry, Ricky and Bobby Jr.
"Bobby was a good man, a great ballplayer," said Arizona manager Bob Brenly, who coached with Bonds on the Giants for two seasons. "I know how much that's been weighing on Barry's mind and the entire family. Hopefully, they can find some peace in this."
Funeral arrangements are pending.
Copyright 2018 The Associated Press. All rights reserved. This material may not be published, broadcast, rewritten or redistributed. We strive to uphold our values for every story published.