Photographer: Thad Allender
Camera: Nikon D1H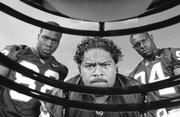 Lens: 17mm
ISO: 200
Aperture: 9
Shutter: 1/400
This is a portrait of a trio of linemen from Kansas University's football team media day event at Memorial Stadium. Since the event was scheduled for mid-afternoon, I brought along two lights to help overpower the sunlight and rid the photo of any harsh shadows. I positioned the lights equally distant from my left and right side to expose the scene evenly. Technically, I was ready to shoot; all I needed was my subject and a concept.
I was interested in shooting through the face mask of a helmet to give the reader a similar perspective to that of a football player. The face mask also helped frame the players and add a layer of information to the image.
My next hurdle was to convince the players I wasn't crazy for shooting their portrait from inside a helmet and that they'd look really cool if we could pull it off.
I staggered the players, asked the man in the foreground to squat down, and I began shooting. After firing off about 30 frames in 5 minutes, the shoot was over.
It might be the only time I can strap on a helmet in front of a trio of 300-pound football players and make it out alive.
-- "Behind the Lens" is an ongoing weekly series that features an image selected by the Journal-World photo staff that previously ran in the newspaper or online. Wondering how a certain picture was created? Nominate it for "Behind the Lens" by contacting chief photographer Mike Yoder at 832-7141 or myoder@ljworld.com.
Copyright 2018 The Lawrence Journal-World. All rights reserved. This material may not be published, broadcast, rewritten or redistributed. We strive to uphold our values for every story published.