It was hot in Lawrence on Saturday, but those who rallied in South Park in support of more funding for public education were hoping to turn up the heat even more on the Kansas Legislature.
About 300 people -- including some from across the state -- marched down Massachusetts Street to the park in an effort to jump-start a grass-roots effort to get that funding.
"Let me borrow a line from 'Jerry Maguire,'" said Kathy Cook, co-founder of Kansas Families United for Public Education, referring to the Academy Award-winning movie from a few years ago. "'Show me the money.'"
Cook was one of several people who spoke at the rally, including some freshman legislators who led a failed bipartisan effort during the 2003 legislative session to increase funding for schools.
"We are committed to doing everything we can in the next session to free more dollars for our schools," said one of those legislators, Rep. Paul Davis, D-Lawrence.
A good education is important if the next generation is to keep the state's economy strong, said Rep. Tom Holland, a Baldwin Democrat.
Although Douglas County legislators and some from Johnson County support increased funding, other conservative state legislators oppose it if it requires increasing taxes.
"We need your voice this January," Holland told the crowd. "It's got to happen this session."
Cook, of Shawnee, who organized Kansas Families United as a tool to win increased education funding, also noted that the federal government had failed to adequately fund its mandate for No Child Left Behind, leaving it to the states to finish.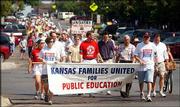 Cook commended 3rd District Congressman Dennis Moore for introducing a bill that would allow states and school districts to delay instituting the mandate until it was adequately funded.
Inadequate state funding has resulted in low morale for teachers, who see the negative effects daily in their classrooms, said Bria Klotz, who teaches at Prairie Park School. Twice she has been laid off by the school district because of funding problems. Both times, she was later rehired.
"The students don't even know who their teachers are going to be," Klotz said. "It's stressful for all parties involved."
Large class sizes and low pay affect morale, she said.
Prior to the rally at the South Park Gazebo, the supporters earned cheers from some pedestrians as they walked down Massachusetts Street. The marchers carried signs and banners saying "Legislators fund our schools or find a new job," and "Elect candidates who will fund our schools." One boy bore a sign saying "Aren't I important enough?"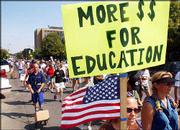 Those participating were primarily from Lawrence, but several were from Manhattan and the Kansas City metropolitan area.
Royceann Mather came from Overland Park to express her displeasure with many lawmakers' apparent disregard for education. But she and others said they faced an uphill battle against staunch conservatives in the Legislature.
"As we all know, the conservatives are already very, very well organized," she said.
"The network has started," said Adela Solis, vice president of Lawrence Education Assn. and a fourth-grade teacher at Cordley School. "I can only see it getting bigger and better.
Solis said it was important for Gov. Kathleen Sebelius to join the effort and help push for increased education funding.
"I don't think the legislators can do it without the governor spearheading it," Solis said.
Richard Heckler, who led the effort to organize the march and rally, said he was please with the turnout. He organized a similar rally in early June that drew 50 people.
"We want to keep the money in the classrooms; to have smaller class sizes and better pay for teachers," Heckler said.
Copyright 2018 The Lawrence Journal-World. All rights reserved. This material may not be published, broadcast, rewritten or redistributed. We strive to uphold our values for every story published.