Washington — Four decades after Martin Luther King Jr.'s demand for equality stirred a nation, civil rights activists commemorated his "I Have a Dream" speech Friday by celebrating the inscription of those words on the monument where his call rang out.
His widow, Coretta Scott King, stood on the steps of the Lincoln Memorial as officials uncovered the words chiseled into the granite of a landing. "The inscription adds a sense of wholeness to this spot," she said.
About 1,000 people came in stifling heat to begin two days of observances tied to the coming 40th anniversary of the March on Washington on Aug. 28, 1963. Organizers also put together a prayer vigil and poetry jam on the eve of a rally today.
It was on those granite steps -- on a hot summer day before a crowd of about 250,000 -- that King delivered his historic call for justice.
"I have a dream that one day this nation will rise up and live out the true meaning of its creed: 'We hold these truths to be self-evident, that all men are created equal,"' he said.
"I have a dream that my four little children will one day live in a nation where they will not be judged by the color of their skin but by the content of their character."
One of those children, Martin Luther King III, now 45, said those words were far from forgotten. "I do think people remember because they resonate so clearly," he said.
King said the appeal his father made so many years ago had not yet been fully embraced.
"Components of the dream have been realized, but the entire vision of freedom, justice and equality for all humankind has not," he said.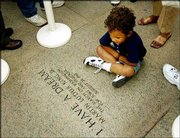 Copyright 2018 The Associated Press. All rights reserved. This material may not be published, broadcast, rewritten or redistributed. We strive to uphold our values for every story published.