Moderick Johnson's game is big, and not just because the Kansas University wide receiver stands 6-foot-5.
A freshman, Johnson has the KU football coaching staff buzzing.
"He has got a chance to be a very special player in this league," coach Mark Mangino said. "Hands like glue, and he's got a little swagger to him. He thinks he's pretty good ... and you know when you think you're good, (there's a) pretty good chance that you are."
Wide receivers coach Tyrone Dixon, who recruited Johnson out of Houston's North Shore High, says the lanky wideout will make an impact this fall.
"He's a big target," Dixon said. "For a young guy, he has a very mature attitude and an excellent work ethic for a high school kid coming in. For how tall and skinny he is, he's not afraid to go across the middle at all."
Johnson is working on the skinny part. He came to Lawrence weighing about 185 pounds, but he hopes to play at 215 and evolve into an NFL-quality player.
"He's a prototype pro receiver, dimension-wise," Dixon said, "but he's got to put on a little weight."
It's not just the coaches doing the talking -- Johnson isn't afraid to open his mouth. In fact, he welcomes the chance to become a vocal leader for the offense.
"Anybody can catch. Anybody can run routes, but it takes someone special to get the team pumped up when everyone's head is down, somebody with heart," Johnson said. "I feel that I am that guy, even though I am a receiver. I feel I can get as excited and as pumped up as some of those defensive guys. Sometimes the offense needs to get woken up. I feel that I can do that."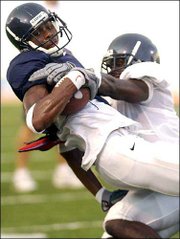 Johnson made 33 catches for 602 yards and four touchdowns as a senior and was named Greater Houston Offensive Player of the Year.
"I'm ready to get into the fire, but I want to be in there making plays, trying to turn this team around," Johnson said. "I want to be the go-to guy. I want to be the guy that everybody is looking at, that everybody has scouting reports on."
Johnson talks more like a senior than a player with no college experience.
"Just because I'm a freshman, I don't feel like I have to take a back seat," he said. "Right now I feel that some people on the team look up to me, just because of the way I carry myself on the practice field."
Johnson was working with the second-string offense when he hauled in a touchdown pass during Wednesday's open practice at Memorial Stadium.
"Coach always says that perfect practice makes perfect ... I really get down on myself when I don't do something perfect," Johnson said. "Coach wants it perfect, and that is how I want it."
Johnson said many of his high school friends were skeptical when he chose KU.
"People were surprised that I didn't want to stay in Texas because it is such a big football state," he said. "I felt that this was the best thing for me. When I took my visit at Kansas, I loved everything about it. This is where I felt I needed to be."
Johnson is one of 17 Texans on the KU squad, including four other wideouts. Mangino has six staffers patrolling Texas in search of prospects.
"It's a great state for football, and it's in the Big 12, so for us to not go down there and recruit is crazy," said Dave Doeren, KU linebackers coach and recruiting coordinator. "There's probably 200 Division I players in the state and all of them want to play in the Big 12."
Doeren believes Kansas can corral its share of those 200 Texans.
"We're not going to beat Texas and Texas A&M; for a kid usually," he said, "but we're going to try to compete with everybody else."

Still KU: Internet reports that new athletic director Lew Perkins wanted to change the lettering on the Jayhawks' helmets from "KU" to "Kansas" are false.
"I have more important things to worry about," Perkins said. "Last time I saw the helmets it was KU."

Hawk Talk: Mangino's weekly radio show will make its 2003 debut at 6:06 p.m. Aug. 29 on the Jayhawk Radio Network.
Copyright 2018 The Lawrence Journal-World. All rights reserved. This material may not be published, broadcast, rewritten or redistributed. We strive to uphold our values for every story published.