Washington — Two spiky green pine seedlings, the offspring of one of the oldest trees on Earth, were presented to the U.S. Botanic Garden Tuesday as part of an effort to study and eventually clone the world's great trees.
The 10-month-old seedlings, each about 4 inches high, were delivered to the Botanic Garden by northern Michigan tree farmer David Milarch and his son, Jared. The Milarchs grew the trees from the seeds of a 4,768-year-old, 55-foot-high bristlecone pine named Methuselah, which grows in the Inyo National Forest on the Nevada-California border.
"This is a plant that we have always wanted," said Holly Shimizu, executive director of the Botanic Garden. "These plants have survived for over 140 human generations."
The seedlings aren't exact copies of Methuselah, named after a long-lived character in the biblical book of Genesis. They only contain half of the gnarled old tree's genetic materials. But when the seedlings are 3 years old, or about the height of a pencil, the Milarchs plan to graft them with more genetic material taken from Methuselah. At that point, whatever new shoots grow will be considered exact clones of the ancient pine, Jared Milarch said.
The seedlings, which have spent the last month in a greenhouse at George Washington's estate in Mount Vernon, Va., will be housed in the Botanic Garden's greenhouses until they are strong enough to plant, Shimizu said. A planting location has yet to be selected.
The Milarchs formed the Champion Tree Project in 1996 to "preserve, protect, propagate and plant a living legacy of trees," Jared Milarch said.
Earlier this year, on Arbor Day, they planted on the U.S. Capitol grounds a clone of a white ash that was originally planted by George Washington at Mount Vernon. Their next project: Cloning Robin Hood's oak tree, estimated to be 800 years old, which lives in Sherwood Forest in Nottinghamshire, England.
The Milarchs and other researchers want to figure out what helps champion trees live so long, and whether cloned trees can survive in different climates. For example, Shimizu said it will be a challenge to keep the bristlecone pine seedlings alive in Washington because the trees prefer cooler nights.
"It's an awesome responsibility," Shimizu said in a hushed voice as she took the two clay pots containing the seedlings.
"These things are difficult to grow," admitted Jared Milarch, 24. "Just keeping them alive will be the next step."
The bristlecone pine project began in October 2001 when the Milarchs trekked 10,000 feet up into the White Mountains to collect seeds and small cuttings from Methuselah. Scientists at a California laboratory attempted to clone the tree from the genetic material in the cuttings, but that failed.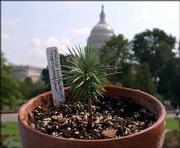 Copyright 2018 The Associated Press. All rights reserved. This material may not be published, broadcast, rewritten or redistributed. We strive to uphold our values for every story published.