ROCHESTER, N.Y. — Shaun Micheel's name on the trophy looks out of place alongside Tiger Woods, Jack Nicklaus and Walter Hagen.
None of those guys ever won a PGA Championship with a shot like this one.
His heart pounding, his lead down to a single stroke, Micheel stood in the first cut of rough on the 18th hole at Oak Hill with everything riding on his 7-iron from 175 yards.
"When that ball was in the air, all I was asking for was just to carry to the front of the green," Micheel said Sunday.
The roar of the crowd told him it was better than that. Only when Micheel jogged up the steep slope of shaggy rough to the green did he realize it was almost perfect.
The ball hopped three times and trickled to within two inches, a spectacular finish to the most surprising season of majors in 34 years.
The tap-in birdie was the easiest shot he had all day.
It gave him an even-par 70, a two-stroke victory over Chad Campbell and his first PGA Tour victory in 164 tries -- at a major championship, no less.
"I can't believe this is happening to me," Micheel said.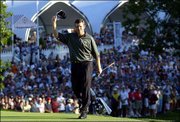 It should come as no surprise to anyone who has followed the majors this year.
Micheel's victory made it a clean sweep of first-time major winners for the first time since 1969 -- Mike Weir at the Masters, Jim Furyk at the U.S. Open and Ben Curtis at the British Open, the 396th-ranked player in his first major.
Micheel was nearly as obscure.
"I was trying to win the B.C. Open a year ago this time," Micheel said. "A month or two ago, I was trying to keep my card. To have my name on that trophy ... I don't know what I'm thinking right now."
Micheel, who finished at 4-under 276, was playing in only his third major. At times it showed, but not when it mattered.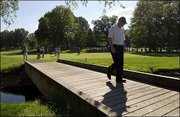 "Be right!" Micheel's caddie shouted as Micheel's 7-iron took flight, then descended from the blue skies over Oak Hill.
Campbell, who rallied from a three-stroke deficit with four holes to play, was in the fairway and poised to make a run at birdie to force a playoff.
"I knew I had to hit a good shot," Campbell said. "That was obviously before he hit his, and I didn't know it was an inch. His shot on 18 was just phenomenal."
Tim Clark of South Africa, tied for the lead as he made the turn, made four bogeys on the back nine and had to settle for a 69, three shots behind.
Alex Cejka of Germany, filling out the foursome of no-name players who contended for the fourth major of the year, had a 79 and was at even-par 280.
Micheel became the first player since John Daly in 1991 to make the PGA Championship his first victory, and he is the 13th winner in the last 16 years to make the PGA his first major.
He walked off the green and into the arms of his pregnant wife, Stephanie, hugging her and then kissing her belly.
"I was so nervous I didn't know if it was the baby or just butterflies," Stephanie Micheel said.
She had reason to be nervous.
Even though Micheel never trailed after making a 10-foot par putt on No. 10, he had to endure wild swings of momentum on each of the final holes.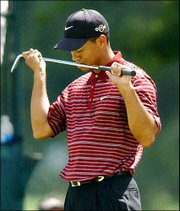 l Campbell nearly holed out from the 13th fairway to cut the lead to one.
l Micheel hit driver to the fringe on the 323-yard 14th hole, giving him a two-putt birdie and a three-shot lead when Campbell missed a short par putt.
l Campbell responded with a 35-foot birdie putt on the next hole, and again cut the lead to one when Micheel three-putted for bogey.
No shot was as important as on the 16th, when Micheel slugged out of the gnarly rough and ran his approach into within 25 feet for an improbable birdie and a two-shot lead, a big cushion with two of the toughest holes at Oak Hill still to play.
"I had a chance there at the end, but couldn't quite catch him," Campbell said.
With Rich Beem winning the PGA Championship last year at Hazeltine, the last five majors have gone to guys who had never captured golf's biggest tournaments. That's the longest streak since 1959.
Along with the $1.08 million prize, Micheel gets a five-year exemption on the PGA Tour and into the other three majors. He gets to play the PGA Championship as long as he likes.
Oak Hill lived up its reputation in at least one aspect: In four previous majors, a total of seven players finished under par.
Everyone knew the champions, though -- Cary Middlecoff in the 1956 U.S. Open; Lee Trevino in the 1968 U.S. Open; Nicklaus in the 1980 PGA Championship; and Curtis Strange winning his second straight U.S. Open in 1989.
Add Micheel to the roll.
He sat next to the Wanamaker Trophy and studied the names, still amazed.
"I look down that list right there and see all the names ... I just hope that maybe I can produce a career like a lot of those guys."
Woods ended his worst major championship in style with birdies on two of the final three holes and finished at 12-over 292. It was his highest score in relation to par at a major, and only the third time he was over par in all four rounds.
Walking briskly down a brick path toward the scoring room to sign for his 3-over 73, Woods said, "The suffering is over."
Oak Hill still had plenty of pain to dish out.
No one suffered quite like Weir, who was trying to become the first player since Nicklaus to win the first and final major of the season.
He was only three strokes behind and had experience on his side. What he didn't have was a club in his hand to find the fairway.
The Canadian bogeyed his first five holes and was never again a factor.
Ernie Els, with a chance to get the third leg of a career Grand Slam, got within three strokes of the lead as he made the turn. He made sloppy bogeys on two of the next three holes and meaningless pars the rest of the way.
Vijay Singh didn't make a birdie until the 14th hole, but by then he was well on his way to a 79, his second Sunday fade in a major this year. He closed with a 78 at the U.S. Open.
Those were the only guys among the top 11 on the leaderboard going into the final round who had won majors.
Then again, no experience was necessary this year.
Copyright 2018 The Associated Press. All rights reserved. This material may not be published, broadcast, rewritten or redistributed. We strive to uphold our values for every story published.