MONROVIA, Liberia — Rebel and government forces agreed Sunday to allow aid agencies into all areas of Liberia, opening the way to parts of the countryside that have been beyond reach of humanitarian assistance for three years.
"We think it's an extremely important step," said Ross Mountain, the U.N. humanitarian coordinator for Liberia. He said a U.N. team would leave the overcrowded capital today and begin assessing needs in the outlying areas where at least half of the country's 3 million people reside.
"Security is the number one, two and three need here," he said.
The joint declaration promised "free and unimpeded access to all territories under our control to enable the delivery of humanitarian aid and assistance."
The announcement came as the Pentagon turned down a request to deploy more U.S. Marines in Monrovia, according to Brig. Gen. Festus Okonkwo, the Nigerian who heads the West African peacekeeping force here.
"They said no more are coming," said Okonkwo, who had requested 120 to 150 Marines to patrol Bushrod Island, the most volatile area in the capital.
Okonkwo made the request on Friday to Maj. Gen. Thomas Turner, the American commanding the joint task force anchored off Monrovia. About 150 Marines are already in Liberia, a standby force huddled in a compound at Roberts International Airport about 40 miles outside the capital. The United States has dispatched about 4,350 Marines and sailors to the region aboard three ships.
Okonkwo said he was "managing" without the Americans. A second Nigerian battalion with armored personnel carriers began to arrive on Saturday, boosting a badly overstretched initial contingent of about 800 soldiers.
The force has been unable to guarantee security in Monrovia, where residents complain of harassment and looting by government militias, especially after dark. U.N. peacekeeping officials, who will take over the security mission in October or November, have called for a force of 5,000 to police the capital alone, and triple that to assure security across a country roughly the size of Tennessee.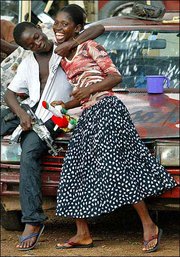 The government left behind by President Charles Taylor controls less than a third of Liberia. The rest is held by two rebels groups, Liberians United for Reconciliation and Democracy, or LURD, and the Movement for Democracy in Liberia, or MODEL. Taylor stepped down last week and accepted exile in Nigeria.
The three sides fighting in the war have been negotiating in Accra, Ghana, to create a transitional government, and reports emerged Sunday that a pact was near.
"We are expecting the signing of an agreement tomorrow, either by part or all of the delegates, but I think an agreement will be signed by all parties," U.N. envoy Ahmedou Ould-Abdallah told Reuters.
Bickering over which of the ministries would go to the rebels has held up the agreement, which was to have been announced Saturday.
"They're demanding the most lucrative agencies of government," Liberian information minister, Reginald Goodridge, complained to reporters in Monrovia. He named those ministries as finance, commerce, foreign affairs and the bureau of maritime affairs, which collects the fees ship owners pay to register their vessels under Liberia's infamously lax "flag of convenience."
Civilians in the capital, meanwhile, continued to scramble for food. Looters took about half of the U.N. World Food Program's inventories.
Ships carrying aid are on their way to Liberia, but even if they arrived Sunday they could not be unloaded because looters also carried away the cranes and forklifts from Monrovia's seaport.
Copyright 2017 The Lawrence Journal-World. All rights reserved. This material may not be published, broadcast, rewritten or redistributed. We strive to uphold our values for every story published.