A $2 million expansion will bring 45 new jobs to Sauer-Danfoss Inc. in Lawrence.
The Iowa-based manufacturer said Wednesday it would begin adding about 35 production and 10 office jobs next month at its plant in East Hills Business Park.
The jobs, which are expected to pay an hourly wage of at least $10 an hour, are being shifted to Lawrence after the company decided to close a manufacturing plant in West Branch, Iowa.
"We are definitely delighted and excited with the decision to move the work to Lawrence, but we're also a very people-oriented company and we understand how tough a day it is in West Branch," said Keith Folkmann, director of plant operations in Lawrence.
An undetermined number of workers from the West Branch plant will be offered transfers to the Lawrence plant. But Folkmann said he expected most of the jobs to be filled from the Lawrence-area work force.
The expansion will increase the Lawrence plant's work force, which currently totals 104 workers, by about 45 percent.
The plant makes hydrostatic transmissions for skid loaders and other pieces of construction equipment. The new work will involve making gear pumps and gear motors that are components in the transmissions.
"To be able to build both in the same facility gives us a lot of advantages in efficiency and cost," Folkmann said.
The expansion won't require the company to add to its 162,000-square-foot building. When the company built in Lawrence in 1998, it planned a building large enough to handle expansion, Folkmann said. That ability to immediately accommodate the new workers was a big reason the Lawrence plant was chosen over one of the company's other seven U.S. plants.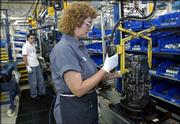 "We had the space, but we've also earned a good reputation in the company," Folkmann said. "The organization knows we have a benchmark facility here."
Lynn Parman, vice president of economic development for the Lawrence Chamber of Commerce, said the project would provide a boost for the area's economy.
"Forty-five jobs is a lot," she said. "It is a pretty significant gain for us."
Sauer-Danfoss is the fourth East Hills company to announce an expansion this year. Previously, Kinedyne Corp., API Foils and Pearson Government Solutions announced expansions adding a combined 320 jobs at the business park along Kansas Highway 10 east of Lawrence.
Parman said she was working with two other Lawrence companies considering expansion projects. She said those companies should make a decision in the next three months.
"I think there is more confidence in the economy now, and that is becoming evident by companies choosing to invest again," Parman said.
Sauer-Danfoss won't be seeking city tax breaks for the expansion project. In 1998, the company received a 10-year, 80 percent tax abatement on the original $23.8 million investment it made in Lawrence. At the time, officials said the tax break was key to its decision to build in Lawrence. The city was chosen as the plant's location from among a handful of finalist sites in Missouri and Oklahoma.
With 20 plants in North America, Europe and East Asia, Sauer-Danfoss employs more than 7,000 people worldwide. The company's stock closed down 30 cents, to $14.05 per share, Wednesday on the New York Stock Exchange.
Copyright 2018 The Lawrence Journal-World. All rights reserved. This material may not be published, broadcast, rewritten or redistributed. We strive to uphold our values for every story published.