At least Nick Reid can find the positives in switching from linebacker to safety.
"I love it," the Kansas University sophomore said. "Now I get nine yards to run and hit people instead of five."
Reid starts his second football season with the Jayhawks having already tinkered with three different positions.
The former Derby High standout came to KU as a quarterback last summer, was moved to defensive back early in preseason camp and wound up at linebacker after starter Banks Floodman suffered a season-ending knee injury in the 2002 season opening game.
Floodman is back at linebacker this season, so Reid is back in the secondary.
It seems like it'd be tough -- and maybe even annoying -- for the sophomore, but Reid salivates at such challenges.
"He is a guy that we have asked a lot of things from," KU coach Mark Mangino said, "and he always responds in a positive manner. That's why I like Nick."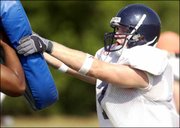 To go with the position change, Reid was asked to lose a little weight and work diligently on his quickness in changing directions. He's slimmed down 10 pounds to about 220, and defensive backs coach Clint Bowen said he saw obvious improvement in his weaknesses at the position.
"He made a commitment," Bowen said. "He can really play back there now."
Reid played quarterback and safety during his high school days at Derby, so he's no stranger to the secondary. He has a respectable supporting cast of defensive backs to work with, including cornerbacks Remuise Johnson and Donnie Amadi, and strong safety Zach Dyer. Dan Coke, Bobby Birhiray and Ronnie Amadi will all see playing time back there, too.
Newcomers Shelton Simmons and Rodney Fowler also are expected to make an impact.
"We're looking good," Reid said of the secondary. "We've got confidence this year. There are no weaknesses across the board."
Of course, Reid's real joy, knocking the tar out of whoever has the football, can still be satisfied at his new spot this season. As a true freshman, Reid registered 62 tackles at outside linebacker, making him the Jayhawks' top returning tackler. They were, judging by his demeanor, the 62 best moments of his freshman campaign.
He'll get plenty more chances this season, which kicks off Aug. 30 at home against Northwestern.
"I like to hit," said Reid, who also had six sacks in 2002. "I like the contact."
Copyright 2018 The Lawrence Journal-World. All rights reserved. This material may not be published, broadcast, rewritten or redistributed. We strive to uphold our values for every story published.