The United States still suffers from the same health care ailments it had more than 50 years ago.
Susan Pogany has proof.
In a scrapbook in Pogany's house is a 1949 letter President Harry S. Truman wrote to her grandfather, Sam Roberts, a well-known Kansas City-area doctor who was the ear, nose and throat specialist for the Truman family.
In the letter, Truman bemoans the national insurance situation and calls for a "remedy." He also questions the nation's overall health, noting that 34 percent of Americans were unfit for military service because of health problems, and said he was most concerned about middle-class Americans.
"When it comes to the point where a man getting $2400.00 a year has to pay $500.00 for prenatal care and then an additional hospital bill on top of that there is something wrong with the system," Truman wrote.
Pogany, a Lawrence artist and writer, said it didn't take much of a stretch to make a connection between Truman's call for a national health care system and that of recent political leaders, especially former President Bill Clinton.
"It's amazing how much it relates today," she said. "It's the same thing we face."
Roberts met Truman before he was president, when he lived in the Kansas City area. Pogany said the men remained good friends throughout Truman's presidency and afterward.
Roberts removed the tonsils of Margaret Truman, the president's daughter. Pogany remembers attending a 1964 party thrown by Roberts' third wife that Bess Truman, the president's wife, also attended.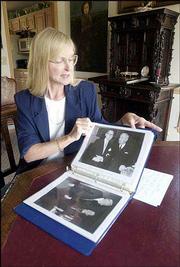 Pogany said the friendship between Truman and Roberts was an unlikely one.
"With Truman being a Democrat and my grandfather such a staunch Republican, there must have been a good deal of political sparring between the two of them," she said. "My grandfather generally spoke his mind and didn't mince words. He was a gentleman and a diplomat, but you'd have to guess that he and Truman got into some heated discussions."
Some of those discussions likely revolved around Truman's health care plan.
'Socialized medicine'
Ten months before writing Roberts, Truman's State of the Union address included the proposal of creating a national health insurance system.
Christopher Crenner, interim chairman of the department of history and philosophy of medicine at the Kansas University School of Medicine, said many Republicans and those in the medical community resisted Truman's proposal.
"It was the boogeyman of creating socialized medicine," Crenner said. "Here we are right before the 1950s. Communist Russia looks like a world threat, and yet you have something proposed that looks like a socialized health care plan."
Today, Crenner said, the biggest resistance to a national health insurance plan would probably come from the private insurance industry.
The basic philosophy of national health care is based on the fact the people who can afford to pay for insurance generally are more healthy than those who can't.
"One way Truman saw to solve this is to put people together in one group so you're subsidizing people who are sick with the people who had the money," Crenner said.
Truman ended his letter to Roberts with this admonition: "I'd suggest you Doctors had better be hunting for a remedy yourselves unless you want a drastic one."
But Crenner said he didn't know of a credible proposal for a national system that has ever come from the medical community.
"There are always concerns (from doctors) to improve the health care system, but I don't know that there's been a comprehensive health insurance policy proposed," Crenner said. "It's clear physicians have an enormous stake in this. Health insurance will shape the way I and other physicians work."
For Pogany, the letter offers insight into a profession that is a major part of her family. In addition to her grandfather, her father and brother are both physicians.
But more than anything, she said, it offers insight into the importance of her grandfather's work and to his relationship with Truman.
"It's personally written, clearly," she said. "It's very personal. I don't know how much personal letter-writing presidents do today. I don't think I realized how much of a major figure my grandfather was."
Copyright 2018 The Lawrence Journal-World. All rights reserved. This material may not be published, broadcast, rewritten or redistributed. We strive to uphold our values for every story published.