Lexington, Ohio — Pole winner Paul Tracy will have unexpected company on the front row for the Champ Car Grand Prix of Mid-Ohio.
Rookie Ryan Hunter-Reay was the second-fastest qualifier Saturday, crossing the finish line on his fast lap just before the session ended two minutes early when Mario Dominguez went off the track.
Tracy, driving for Player's-Forsythe Racing, added one point to his season total by taking the pole and moved within a point of leader Bruno Junqueira in the driver standings.
The pole was his career-high fifth of the season, one more than rookie Sebastien Bourdais, who will start third. It's also the first pole at the Mid-Ohio Sports Car Course for Tracy, who has never won in 10 tries here but finished second four times.
Tracy posted his best time on the third of his 11 qualifying laps -- and it held up.
Tracy's lap time of 1 minute, 07.058 seconds at 121.220 mph barely edged Hunter-Reay's 1:07.074 and 121.192.
"There was nobody in front of me. It wasn't optimum, but I was gaining time -- up, up, up every section. I just stayed with it the whole lap," Tracy said.
"I usually don't go until my fourth lap, but I decided to go on my third. After that, I started catching traffic. I had to back off for a lap. It was never quite the same again."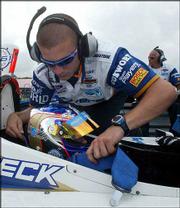 The second-place starting spot is the best for both Hunter-Reay and his first-year American Spirit team. He and Jimmy Vasser are the only full-time drivers in the series from the United States.
Tracy, a Canadian, said he wasn't concerned about being next to a first-time front-row starter today.
"Ryan has everything to gain," he said. "I don't think he wants to do anything crazy. I think he wants to get through the first corner and get a good result for himself to prove what he's doing in the team is working."
Fourth on the grid at the 2.26-mile, 13-turn road course will be Michel Jourdain, a fan favorite at Mid-Ohio because he drives for Team Rahal, CART's only Ohio-based operation. He will be followed in order by Patrick Carpentier, Junqueira, Alex Tagliani and Oriol Servia.
Starting position is important here because the winner has come from the pole nine times, from second four times and from third twice in 21 previous CART races. No one has won from a worse starting position than eighth.
Copyright 2018 The Associated Press. All rights reserved. This material may not be published, broadcast, rewritten or redistributed. We strive to uphold our values for every story published.