French Lick, Ind. — A century ago, gambling, elegant hotels and hot mineral spring baths turned this town into a destination for wealthy travelers, Hollywood stars and U.S. presidents.
Four major league baseball teams came for spring training, and as many as 17 casinos offered gambling in the southern Indiana hill town's 1920s heyday.
"A local person couldn't get in," recalled Parke Flick, an 89-year-old lifelong resident who worked at one of the grand hotels in the early 1930s. "This was strictly for the millionaires. They would come to town with their chauffeurs."
These days, the millionaires are gone, although native son and NBA basketball legend Larry Bird -- also known as the "Hick from French Lick" -- frequently returns.
Claims about the water's healing powers have evaporated in an era of greater skepticism. And the illegal but officially tolerated gambling went by the wayside under a 1949 order from the governor -- though it's scheduled to come back next year, legally, when a casino opens nearby.
But those not seeking a lucky strike or a miracle cure still will find an abundance of attractions in French Lick and neighboring West Baden Springs.
Year-round beauty
The century-old hotels, a throwback to an age when almost no expense was spared in pursuit of architectural artistry, still attract visitors.
And the forested hills provide a scenic backdrop in spring, summer and fall for golf, tennis, archery and horse rides. In winter, there's even skiing at nearby Paoli Peaks -- a pastime one might not expect to enjoy in mostly flat Indiana.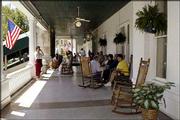 Other attractions include cruises on nearby Patoka Lake, historic train rides to Hoosier National Forest and tours of the grand hotels.
Visitors still take mineral springs baths at the 471-room French Lick Springs Resort & Spa, where the so-called "Pluto" water was once promoted with the slogan: "When nature won't, Pluto will."
The resort averaged just 34 percent occupancy last year, but a privately operated casino is scheduled to open in 2004 along a waterway connecting the towns of French Lick and West Baden Springs. Locals hope that will increase tourism.
Potential draws
French Lick was named by French explorers because animals came to the springs to lick salt deposits.
The area's architectural gem, the West Baden Springs Hotel, was collapsing into ruins until restoration work began in 1996. A $32 million renovation has partially restored the 500-room hotel, which is a National Historic Landmark.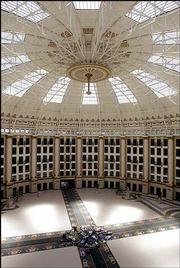 More money is needed to renovate gutted rooms and circular corridors surrounding the hotel's centerpiece: a restored glass-and-steel domed atrium soaring 100 feet above a mosaic-tiled floor. The atrium was the world's largest freespan dome before the Astrodome's 1965 construction in Houston.
The hotel struggled after the stock market crash of 1929 and closed three years later. In 1934, it was sold for $1 to Jesuits who used it as a seminary for three decades. In 1919, the hotel briefly served as a hospital for wounded soldiers returning from World War I.
These days, the hotel is open only to tours, afternoon teas and other special events. Most of the time, the atrium and its dome are the quietest spot in West Baden Springs.
In addition to the planned casino, community leaders are trying to come up with ideas to draw tourists. Possibilities include a basketball museum to honor Bird's legacy, and a country music hall.
"Our only way to compete for our share of the economic pie is with our tourism and history here," said Rep. Jerry Denbo, a French Lick Democrat who shepherded the casino legislation through the Indiana General Assembly. "We're not going to just have gambling and that's it."
Still, some people like the area's peace and quiet.
"You kind of lay back and enjoy here," said Marilyn Fenton, who, with her husband, John, runs an antiques store and a 130-acre orchard outside French Lick. "That's what we should sell."
Attractions¢ French Lick Springs Resort and Spa: 471 rooms, golf, tennis, swimming, and meeting and convention space. Call (800) 457-4042 or go to www.frenchlick.com.¢ West Baden Springs Hotel: no longer operating as a hotel, but one-hour tours available seven days a week April 1 through Jan. 1. $10 per adult, $5 for children 13-18, $2 per child 6-12. No reservation necessary. For a group tour, call Historic Landmarks Foundation of Indiana, (800) 450-4534.¢ Ride the Rails tours offers train rides through the Hoosier National Forest and West Baden Springs and French Lick. For information, call (800) 748-7246.Nearby attractions¢ Paoli Peaks Ski Area, nine miles east of West Baden Springs, (812) 723-4696, www.skipeaks.com/home.html.¢ Patoka Lake, 10 miles south of French Lick.¢ Hoosier National Forest, surrounding French Lick and West Baden Springs.Additional information¢ Contact the Orange County Convention & Visitors Bureau at (877) 422-9925 or www.orangecountyin.com.Getting thereFrench Lick and neighboring West Baden Springs are about 100 miles south of Indianapolis and 50 miles northwest of Louisville, Ky.The secluded Indiana towns are a mile apart on Indiana Highway 56, about 25 miles north of Interstate 64 and 50 miles west of Interstate 65.
Copyright 2018 The Associated Press. All rights reserved. This material may not be published, broadcast, rewritten or redistributed. We strive to uphold our values for every story published.