St. Petersburg, Fla. — Jimmy Gobble is making quite an impression.
The rookie allowed one run in his second major-league start, and Carlos Beltran homered and drove in three runs as the Kansas City Royals snapped a four-game losing streak by beating the Tampa Bay Devil Rays, 6-2, Saturday night.
"What a great job," Royals manager Tony Pena said. "He has only pitched two games, but the way he approaches each game and his mound presence -- he's pitching like a veteran. He doesn't let anything bother him."
Kansas City, which won for just the fourth time in 12 games, moved one half-game ahead of the White Sox in the American League Central a night after Chicago took the division lead for the first time since May 25, 2002. Oakland beat the White Sox, 7-2.
Gobble (2-0) gave up seven hits, including Damian Rolls' homer in the seventh, and had three strikeouts and no walks in 61/3 innings.
"It's basically living a dream," Gobble said. "Just going out and competing like that. You can't beat it."
The left-hander has allowed just one run in 121/3 innings in the majors. He threw six scoreless innings Sunday in the Royals' 2-0 victory over the Devil Rays.
"I'm glad we're not going to see him anymore this year," Tampa Bay manager Lou Piniella said. "He certainly doesn't pitch like a rookie out of Double-A. He's got a pretty good feel for pitching at a young age."
Beltran hit his 100th career homer, a two-run shot off reliever Lance Carter in the eighth. He also had a run-scoring single.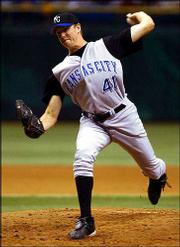 "I feel happy today ... we won," Beltran said. "We had lost two to the Devil Rays. They're playing good ball right now."
Victor Zambrano (9-6) gave up four runs and seven hits over 52/3 innings for Tampa Bay, which is 13-10 since the All-Star break. The right-hander struggled with his control: He hit a batter, committed a balk, threw three wild pitches and walked six.
"Nothing's wrong, nothing's different," said Zambrano, who has won seven of his past nine decisions. "All I can really say is tomorrow is another day. I'll be ready for the next start."
The Royals took advantage of two wild pitches by Zambrano in the second to take a 2-0 lead.
Raul Ibanez singled, and Joe Randa walked. Both advanced on a wild pitch, and Ibanez later scored on another wild pitch. A sacrifice fly by Brent Mayne drove in Randa to make it 2-0.
Desi Relaford made it 3-0 with an RBI single in the third.
Zambrano was able to keep the Devil Rays within three runs by holding the Royals to 1-for-11 with runners in scoring position through five innings. Kansas City stranded seven runners over the stretch and finished 2-for-13 with runners in scoring position against Zambrano.
An RBI single by Beltran in the sixth extended the Royals' lead to 4-0.
Beltran also threw out Rocco Baldelli at the plate on Rolls' single in the fourth. His 18th homer -- a two-run shot -- put the Royals up 6-1 in the eighth.
The homer was the fifth allowed by Carter, Tampa Bay's All-Star representative, in his last 152/3 innings. The right-hander has given up 18 runs and 22 hits during the stretch.
"We're trying to get him sharp," Piniella said. "We're trying to get him some work when the game's not on the line and where he can make some pitches. We're trying to get him back on track."
Both benches were warned when Gobble hit Marlon Anderson with a pitch in the third. Zambrano, who has hit an AL-leading 15 batters, hit Mike Sweeney with a pitch in the top of the inning.
Anderson's RBI single off Mike MacDougal in the ninth made it 6-2.
The Royals' closer has been touched for four runs over 11/3 innings in last two outings.
Notes: Devil Rays OF Carl Crawford was scratched after mildly spraining his right ankle while running after a fly ball in batting practice. X-rays were negative and Crawford is day to day. ... Royals 1B Ken Harvey left in the second after straining his left pectoral muscle while swinging a bat. He is day to day. ... Piniella managed his 2,569th game, tying him for 23rd place on the career list with former Yankees manager Miller Huggins.
Copyright 2018 The Associated Press. All rights reserved. This material may not be published, broadcast, rewritten or redistributed. We strive to uphold our values for every story published.