Watkins Glen, N.Y. — A victory by Jeff Gordon today would be a strong argument that there's nothing more important than practice.
After failing last year to get his fifth victory at Watkins Glen International, NASCAR's king of the road decided to use one of five allowable testing sessions this season to regain the dominance he had here in the late 1990s. It paid off Friday, when he won the pole for the Sirius at The Glen.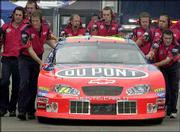 "It really took me about a day and a half to get comfortable going into turn one," he said of his test last month.
Negotiating the first of 11 turns on the 2.45-mile road course is critical.
It comes at the end of a long, downhill straightaway, where a driver can easily ruin his day by sliding off the course and into a gravel trap.
The alternative is to be able to go hard and still make a smooth corner. Gordon, the NASCAR record holder with seven road-course victories, thinks he's ready to do that -- thanks to hard work.
"If we hadn't tested and we just came here, I probably wouldn't be able to drive into turn one the way I can," said the four-time Winston Cup champ.
Gordon has won 55 times on ovals, where speed is the key to victory. But his success on the curvy road courses here and in Sonoma, Calif., is attributable to his understanding that slowing down quickly makes for a faster lap.
"You attack it under braking," he said. "It's really just how hard you drive into the corners."
Rookie Greg Biffle also tested here, and what he learned enabled him to qualify second. Like Gordon, he has had success at Watkins Glen, winning in the NASCAR Truck Series and finishing second in Busch competition.
Biffle and Gordon sharing the front row presents an interesting scenario because the rookie was chastised by NASCAR for rough driving last month in New Hampshire. Biffle was angry because race leader Gordon would not let him get back on the lead lap when a caution flag waved.
He swerved to the right and hit Gordon's car.
But Gordon isn't worried.
"We talked about it the following weekend, and it's long gone," he said. "Stuff like that happens sometimes, and in the heat of the moment it gets the best of you. I respect Greg a lot."
Both should respect the speed of Tony Stewart, who starts fourth in defense of his race title. Unlike Biffle and Gordon, the series champion didn't test here.
But Stewart also is an accomplished ace of the road courses. He has been out of the top 10 only once in four races here.
Stewart starts outside three-time Watkins Glen winner Mark Martin. Rusty Wallace, a two-time winner here, shares the third row with Dale Earnhardt Jr. Points leader Matt Kenseth, Kurt Busch, Bobby Labonte and Boris Said complete the top 10.
Copyright 2017 The Associated Press. All rights reserved. This material may not be published, broadcast, rewritten or redistributed. We strive to uphold our values for every story published.