Perry — A Mission woman was killed and two men were injured Friday night when two boats collided on Perry Lake.
Jane A. Marschand, 57, was killed when a "fish-and-ski" motorboat struck and landed on top of a houseboat, according to the Jefferson County Sheriff's Office. Marschand was a passenger on the houseboat.
"It was very unusual," Sheriff Roy Dunnaway said of the accident. "Anytime somebody gets killed it's bad, but I've never seen a boat land on top of another boat before."
The injured men also were on the houseboat, state and county investigators said. They were identified as Roger Jeffers, 56, and Ronnie Harper, 56, both of Meriden. They and Mar-schand were the only ones on the houseboat, investigators said.
There were four people on the fish-and-ski boat, all from Meriden, a 22-year-old woman and three men, ages 19, 22 and 21, said Sgt. Kirk Vernon, a detective with the Sheriff's Office. The boaters each suffered minor bumps and bruises, Vernon said.
Authorities wouldn't release the names of the riders on the fish-and-ski boat because of the ongoing investigation and the possibility charges could be filed.
The houseboat passengers were transported to the marina, and helicopter air ambulances were called to land nearby. Jeffers was taken to St. Francis Hospital in Topeka, but hospital officials would not release his condition Saturday. Harper was flown to Stormont Vail Health Care Center Topeka, where he was treated and released.
The investigation could take at least a month, said Dan Hesket, law enforcement coordinator with the Kansas Department of Wildlife and Parks, the primary investigating agency.
The accident was reported at 9:49 p.m. Friday by someone on the motorboat using a cell phone to call 911, Hesket said.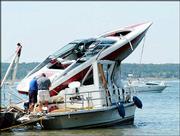 Sheriff's officers and Wildlife and Parks officers worked at the scene Friday night and most of Saturday.
The accident, Dunnaway said, occurred a little more than half a mile west of the marina docks -- just outside an area where boats are required to slow their engines and decrease their wakes to a minimum.
The motorboat was moving and the houseboat was idle but not anchored, Hesket said. All three people on the houseboat were at the front of the boat.
"It was as close to a head-on collision as you can have, at a slight angle," Hesket said.
Asked if alcohol was a factor in the accident, Hesket responded: "That is always a possibility."
State law allows boat operators to drink alcohol as long as they are not intoxicated, Hesket said. The legal intoxication limit for a boat operator is .08, the same as for a motorist.
Boats on the lake at night are supposed to have lights on, Hesket said, and authorities are trying to determine whether the two boats had their lights operating.
"It's hard to see and distances are very hard to determine at night when you are out on the water," Hesket noted.
Explaining the dynamics of a boat landing on another in a collision, Hesket said a boat traveling 20 mph was fast enough to cause it to land on another boat. At 25 to 30 mph, he said, a boat would go over another at impact.
The houseboat was towed closer to the marina Saturday but remained in the water. The fish-and-ski boat was pulled out of the water and held by investigators as evidence.
There were no witnesses to the accident as far as investigators know, Hesket said. Anyone who saw the accident or knows about it is asked to call the Wildlife and Parks regional office in Topeka at (785) 273-6740.
Copyright 2018 The Lawrence Journal-World. All rights reserved. This material may not be published, broadcast, rewritten or redistributed. We strive to uphold our values for every story published.