Topeka — Each month, thousands of Kansans like Jay Dodder visit a county treasurer's office and endure a line to renew their vehicle registrations. To get their new tags, they must show they have insurance.
Dodder, a 24-year-old fitness club worker in Topeka, expects his auto insurance rates to reflect his driving record, his age and the fact that he drives a cool muscle car, a Cobra Mustang.
But he's confounded by the idea of an insurance company considering his credit in setting his rates or deciding whether to issue a policy, and he is not alone. Spurred by concerns about what's known as "credit scoring," the Legislature passed a law during this year's session to restrict the practice.
Dodder said he's never received any indication that his credit has affected his rates, but he cannot see how a credit history has anything to do with a driving record.
"That's like saying people with bad credit drive drunk," Dodder said. "It's ridiculous."
Some industry and state officials say consumers often do not understand why and how companies use credit data and are convinced consumers would be more comfortable with the idea if they did understand. The debate is a national one, with Alaska and Texas among states approving credit-scoring laws this year.
Credit isn't only factor
Progressive Casualty Insurance Co., one of Kansas' largest auto insurers, recently began offering reports about credit scoring to consumers who seek quotes for policies. The company will tell consumers how their credit score is compiled and how their numbers compare to averages. Reports also emphasize that credit is only one factor in setting rates.
"There's no mystery that there's been confusion in the general public about what information has been used and how it has been used," said Evan McKee, Progressive's Kansas products manager. "That's not good for us as an insurer, because it creates distrust."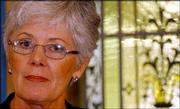 Kansas' new law bars companies from using an individual's credit history as the sole basis for deciding whether to sell a personal policy and what premium to charge. The statute also prohibits insurers from discriminating on the basis of race, gender or income. Insurance companies must notify consumers when credit information is used in calculating their premiums and file their scoring formulas with the Insurance Department.
The law was passed by the 2003 Legislature and went on the books July 1, but its provisions do not take effect until Jan. 1, 2004. In the meantime, Insurance Commissioner Sandy Praeger's office is fleshing out the law out with regulations, with a public hearing likely this fall.
Good for some
Legislators shied away from a complete ban on credit scoring. Praeger said most understood that while some consumers could be hurt, others, with good credit, could benefit.
Brad Smoot, who lobbies for the American Insurance Assn., said companies used several tools to try to manage the risk that they'll have to pay claims, particularly on motor vehicle policies, where the market is highly competitive.
For the same reasons, he said, insurers used to give women better rates when statistics showed they drove fewer miles and, therefore, had fewer accidents. Smokers can get penalized over what Smoot called "the distraction factor."
"They're all designed to be predictors of future behavior, future claims behavior," Smoot said. "People who are risk-averse when it comes to credit tend to be risk-averse when it comes to insurance."
Smoot said other factors -- driving history, for example -- were more important.
As for credit scoring, Smoot said, "There is a lack of general public awareness of this until you talk to your agent or there's a cancellation or your rates go up."
Copyright 2018 The Associated Press. All rights reserved. This material may not be published, broadcast, rewritten or redistributed. We strive to uphold our values for every story published.