Greenfield, Mass. — "Concentration," says Lois Cronk, is the key to winning golf. And a little practice doesn't hurt.
Listen up.
At 90, Cronk looks and plays as if she were decades younger. She recently won her first U.S. women's title, capturing the gold medal in her age group at the National Senior Olympics.
Despite a tussle with a turtle, she carded a three-day, 54-hole total of 270 at the Honey Bee Golf Course in Virginia Beach, Va., at the June games, which attracted more than 400 senior golfers.
Playing through a string of three long water holes, Cronk sat her ball on the edge of the drink. As she approached, the ball moved.
"This turtle had it in its front claws and was pulling it back into the pond," Cronk said.
"I reached down and said 'shoo' and grabbed the ball," she said. "I had to take a penalty, of course, but I wasn't about to let a turtle make off with my ball. You can't let anything distract you in a tournament."
That competitive spirit was in evidence recently when Cronk, who lives in Shelburne Falls, and friend Ron Weller placed second in a member-guest tourney at the Greenfield Country Club.
"I was very relaxed and putting very well," Cronk said.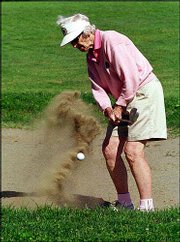 "And still hitting those straight drives," added Weller.
"She's an amazing woman, just amazing" said club pro Bucky O'Brien. "And we're very proud of her."
Cronk was just warming up with the 18-hole tournament. Every Tuesday she plays 27 holes. Her only concession is taking a cart on the hilly Greenfield course.
"I call it my day off," she said. "It's my relaxation. You have to put everything else out of your mind. You can't be thinking about anything else when you address the ball."
Her late husband, Coast Guard Capt. Paul Cronk, introduced her to the game in 1935 when they were stationed in Spring Lake, Mich.
"He got me some rental clubs and we played nine holes. I shot a 47. He shot a 53," she recalled. "He looked at the scorecard and said, 'You've played before.' I said, 'No."'
It wouldn't be her last time besting the men.
"I really had no opposition at the senior games, but I was very happy when I looked over the card and found I had beaten the men," she said of her fellow nonagenarians.
For most of her life, golf was her private time, the release that had to be squeezed in between moves and family responsibilities with never enough time for proper practice.
Still, Cronk got sponsorship offers to turn professional.
"We were in Galveston at the time and my husband said if I wanted to do it that would be fine with him," she recalled. "And I just looked at him and said, 'I don't know why you would say that. I have two babies and you are going to be transferred."'
And, now, at 90, she is a champion with a gold medal to prove it.
Copyright 2018 The Associated Press. All rights reserved. This material may not be published, broadcast, rewritten or redistributed. We strive to uphold our values for every story published.