Rome — With a heat wave scorching Europe, emergency aircraft swooped over wildfires to disgorge water onto smoldering countryside Saturday as authorities made house calls for those suffering at home and tourists hunted for drinks and shade.
Around Europe, about 40 deaths have been blamed on the sizzling temperatures, which have been stuck over 100 degrees for days.
Wildfires fanned by hot winds have eaten up territory in Italy, France, Greece, Spain, Portugal, Croatia and the Netherlands.
In Italy, authorities battled 24 fires Saturday, with the worst in the regions of Tuscany, Piedmont, Liguria, Lazio and Campania.
Civil Defense chief Guido Bertolaso has blamed arsonists. "The fact that it's very hot encourages these delinquent pyromaniacs," he said.
The largest Italian blaze burned about 40 miles north of Naples, causing agricultural damage and killing cows stuck in the meadows, the ANSA news agency said.
In Croatia, 22 firefighters flew by helicopter to combat fires on the Velebit mountain range -- an area where flames have been hard to tackle due to tough terrain and leftover land mines from war in the early 1990s. The situation was under control, although sporadic fires continued on the Adriatic islands of Korcula and Cres, the HINA news agency said.
In Spain, firefighters also seemed to be getting the upper hand while temperatures took a temporary dip Saturday.
Authorities reported they had controlled blazes on the Canary Island of Hierro and on the Mediterranean Balearic Island of Majorca, where some 200 people earlier were evacuated from a monastery, a hotel and several houses close to the town of Randa.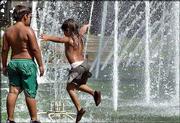 Copyright 2017 The Associated Press. All rights reserved. This material may not be published, broadcast, rewritten or redistributed. We strive to uphold our values for every story published.