Boston — Archbishop Sean Patrick O'Malley arrived in Boston amid swelling public anger over the Catholic church's inability to resolve hundreds of clergy abuse claims.
But behind closed doors, the Capuchin Franciscan friar quickly had a calming influence on the rancorous settlement talks.
On Friday, mediator Paul Finn stood before dozens of attorneys for victims, politely said how pleased he was they had come, and gave each attorney a two-page outline of a $55 million offer from the church to settle more than 540 lawsuits.
"It's been an unbelievable change from what we'd been dealing with," attorney Jeffrey Newman said Saturday. "The rancor that had escalated between us and opposing counsel was such that it became impossible to remain businesslike and professional."
O'Malley, installed as archbishop July 30, wasted no time in changing the bumpy course the lawsuits had taken, reopening communication that had all but collapsed and making clear his desire to settle, according to attorneys involved in the talks.
His predecessors -- Cardinal Bernard Law, who resigned in disgrace in December, and interim archdiocese leader Bishop Richard Lennon -- talked about settling but never seemed to gain ground or the trust of alleged victims and their lawyers.
"Is there a difference? Absolutely. Is there enough of difference for us to come to a final resolution? It's too soon to tell," said attorney Carmen Durso, who is part of a five-member steering committee formed Friday to respond to the offer.
The settlement would resolve claims from men and women who said they were abused as children by about 140 clergy. A recent report by the state attorney general estimated that more than 1,000 children were abused over six decades.
If accepted, it would be the largest lump settlement for clergy abuse since the scandal broke in early 2002.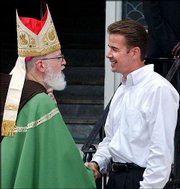 Copyright 2017 The Associated Press. All rights reserved. This material may not be published, broadcast, rewritten or redistributed. We strive to uphold our values for every story published.