Few married couples are ever going to forget details of their weddings.
That goes double for one Lawrence pair, Peter Jasso and Marlo Angell-Jasso. The setting and the events surrounding their wedding will always have extra significance.
That's because the couple, who are devout Catholics, went to great lengths to imbue their marital union with added spiritual meaning. Jasso, 26, and Angell-Jasso, 27, actually did what many American Catholics would only dream of doing. They were married May 16 by an Italian priest in the Pauline or Borghese Chapel in the Basilica of Santa Maria Maggiore in Rome.
Then, a few days after the wedding, the Jassos were among a group of pilgrims who celebrated a Mass with Pope John Paul II in St. Peter's Square.
After the Mass, recently married couples -- who had made the necessary arrangements -- were allowed to meet the pope in person, exchange greetings and receive a papal blessing for their marriages.
"It was a pretty overwhelming experience. I'm hard pressed to remember the exact details," said Jasso, whose wedding announcement -- along with a picture of meeting the pope -- appeared July 26 in the Journal-World.
"We were able to touch (the pope's) hand, kiss his ring and greet him. We made eye contact; he looked weathered but wise. You could definitely see that there was a wisdom there. You were able to sort of block everything else out and focus on the moment."
Jasso's new bride was equally overwhelmed.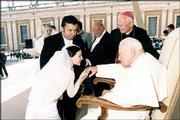 "You're presented to him, one of the cardinals who is there introduces you, your nationality, then you're allowed to kiss the pope's ring," she recalled. "They don't want you to bow down because they're trying to rush you along, but we did bow. It's pretty intense; it doesn't feel real, like you're really there. It seems like you're watching it."
Organizing wedding
Getting married in a Roman basilica and then receiving the pope's blessing in person isn't something a young Catholic couple does at a moment's notice.
It takes preparation.
To make things easier, Jasso, who is director of the Topeka-based Kansas Film Commission, and Angell-Jasso, a freelance independent filmmaker, worked with an Italian wedding agency called Atlantis Traduzioni. The full-service agency specializes in organizing weddings for foreign citizens who want to get married in Italy.
The couple, who have lived in Lawrence since December 2002, relied upon Atlantis Traduzioni to select an Italian priest to conduct the ceremony, do the paperwork so the wedding could take place in the basilica and recommend a place for a reception.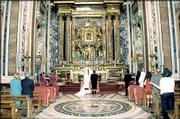 The arrangements were worked out by numerous e-mails between the Jassos and the agency. Then when they arrived in Rome for the wedding, the Lawrence residents finalized the details in person.
Family affair
They had 16 family members and close friends come from the United States to attend the ceremony and celebration.
"It was a lot of work getting it set up," Jasso said.
The backdrop for their wedding, in the basilica, proved unforgettable -- if a bit intimidating.
"It's a pilgrimage site for the faithful and a tourist site as well, so we had a big audience. The church itself is really beautiful and ornate. I was nervous, just from the nature of the ceremony, and because there were so many onlookers," he said.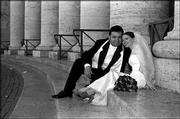 "We walked the full length of the church to reach our chapel. We met Father Maurizio, and he was very nice. He hadn't done too many English ceremonies, but he did very well."
Beautiful way to start marriage
Arranging an audience with the pope, as well as to receive a papal blessing, required preparation, too.
The program through which the couple were able to meet the pope is called Spousa Novelli, which means "new spouses." Intended for those who have been married within the past year, the program is coordinated by the Rome-based Bishops' Office for United States Visitors to the Vatican.
The Lawrence pair asked the Rev. John Schmeidler, associate director of the St. Lawrence Catholic Campus Center, 1631 Crescent Road, to fill out the necessary paperwork. The couple attend church at the center.
"I write to the office in Rome, and I say that I have this couple in America who's coming. I have to say that the couple is in good standing (as Catholics), that they're married within the Church, that they attend Mass," Schmeidler said.
"You simply say they're going to be there this date, and they want to have an audience with the Pope to get their marriage blessed."
Schmeidler said he has arranged such an audience and papal blessing for one other couple, Brian and Kim Green, also of Lawrence.
Kim Green, 28, is the annual giving coordinator at St. Lawrence.
The Greens were married Dec. 14, 2002 at the center, then spent their 10-day honeymoon in Italy, during which time they received a blessing from the Pope at the Vatican.
"We were allowed to give him a message from us and to kiss his ring as well. It was wonderful -- I'd recommend it for anybody," Kim Green said.
Jasso and his wife are thrilled about having had an audience with Pope John Paul II and receiving his blessing.
"It really cemented the vows that we took, as well as the relationship between our marriage and God. It's something I'll remember forever," he said.
Angell-Jasso struggled to put their special moment at the Vatican into words.
"You want to start (your lives together) with the best beginning that you can," she said. "I think the whole experience was the most beautiful way to start a marriage."
Copyright 2018 The Lawrence Journal-World. All rights reserved. This material may not be published, broadcast, rewritten or redistributed. We strive to uphold our values for every story published.