A new art store is coming to downtown Lawrence, but it has a twist. Actually, it's more of a sharp point.
Sacred Sword is set to open by Sept. 1 at 732 Mass., said co-owners Gary Shainheit and Dawn Rothwell.
The store will sell a variety of swords, but Shainheit said the store's target market would be art collectors, not knights-in-shining-armor wanna-bes.
"If someone comes in and asks what they can use to chop someone's head off, I have to tell them that's not what we do," Shainheit said. "This is art."
The swords are considered part of the "fantasy art" movement. Shainheit said the movement had grown by leaps and bounds since Hollywood began releasing movies based around the medieval tale of the "Lord of the Rings" about two years ago.
Shainheit and Rothwell have been selling swords for about two years at Wholesale Mart, 615 Fla.
"I would say the 'Lord of the Rings' movies have brought fantasy art into the mainstream," Shainheit said. "I have parents coming in saying their kids love the movie and they want to buy them a 'Lord of the Rings' sword for Christmas.
"The thing about swords is there's a real cool factor. It's three-dimensional art. You can pick it up and look at it and there is a lot of detail. Then you can hang it on the wall and it shines and glitters."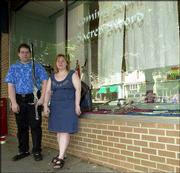 The business will stock swords including katanas, a type of Japanese sword made popular by Samurais; tai chi, a type of sword used in martial arts movies like "Crouching Tiger Hidden Dragon"; and daggers.
Shainheit said prices ranged from about $20 for a dagger to upwards of $600 for a full-sized sword.
The pair will discontinue their sword business at Wholesale Mart. Shainheit said they were seeking a higher-visibility location and thought Massachusetts Street would be perfect.
"Lawrence is a city of the arts and there are so many galleries downtown with paintings and sculptures," Shainheit said. "I'm just adding the steel element, the fantasy art element."
The swords can be dangerous. While most art swords have unsharpened edges, they do have a sharp point. The store also will sell training swords used by Renaissance actors to teach swordsmanship without "cutting their hand off in the process," Shainheit said.
The store also will sell holistic health items such as herbs, essential oils and crystals, Rothwell said. She'll operate a massage therapy salon.
Rothwell, who also sells holistic products at Wholesale Mart, said the two product lines went well together because people who practiced holistic medicine also tended to be fans of the swords.
"People probably are going to think we're a scary place, but most of our customers are devoutly religious," Rothwell said. "People are probably going to think we're something witchy, but that's not the type of store we are."
Copyright 2018 The Lawrence Journal-World. All rights reserved. This material may not be published, broadcast, rewritten or redistributed. We strive to uphold our values for every story published.