On the Missouri River — Standing on his tugboat Mel Sue as it muscles another sand-filled barge to the Missouri River's shore, Gerald Engemann wonders how much longer he'll be able to make a living.
For more than two decades Engemann has co-owned a sand-dredging business near the east-central Missouri town of Hermann. He reshapes the river's bottom and sells the sand, easing the passage of barges in what he calls "one big recycling program."
Yet he worries that someday he won't be seeing barges on the Missouri River, which is at the center of at least a half-dozen lawsuits that pit economy versus ecology.
Environmentalists want to cut the river's flow for the benefit of three endangered or threatened species -- the least tern, piping plover and pallid sturgeon. Barge and farming interests say that won't leave them enough water for their livelihoods.
"This Missouri River navigation has been under attack for a long time," says Don Huffman of MEMCO Barge Line in suburban St. Louis. For the barge industry's sake, "we have to get back our reliable flows."
Conflicting courts
The debate is being played out in federal court, where last month a Washington judge sided with conservationists and ordered the Army Corps of Engineers -- the river's manager -- to cut the river's flow. The corps refused, saying its hands were tied by a conflicting court ruling in Nebraska.
But Monday, another federal judge in Minnesota who recently took control of all the Missouri River lawsuits ruled there is no conflict -- and that the order to reduce water stands. The corps ordered barge shippers to secure their vessels for low flows for three days next week. Hearings are on hold until next month.
Environmentalists say the Missouri should ebb in the summer and surge in the spring, returning to conditions before dams and channels created barge traffic routes through Nebraska, Iowa, Kansas and Missouri. Such action, they say, could encourage fish spawning and bird nesting by threatened species.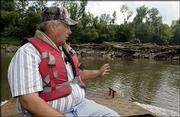 Outdoor enthusiast Jeff McFadden, himself a Missouri River businessman, would go a step further.
"The river flows need to be as natural as possible," says McFadden, who runs a six-passenger, 24-foot tour boat on the Missouri near Kansas City, Mo., and considers the waterway 17 miles from his home "the place in the world where I most want to be any given day or moment."
His wish: elimination of the upriver dams in Montana and the Dakotas and their reservoirs, letting the river dictate its own course. Those in the open spigot's way, he says, can stay and take their chances or move out and stay dry.
"There's no subject more important to me than this," says McFadden, 56.
Well up the river at his home in Bellevue, Neb., south of Omaha, Ted Hirtes accuses the corps of having "screwed up a perfectly good river."
As a carpenter and fishing guide, Hirtes says angling for catfish and carp could be better if the river had a more seasonal flow.
"Fishing is fair out there, and it has its days when it's really good. But it could be a whole bunch better," says Hirtes, 54. "At this point, the corps is looking for any string to pull to justify their existence."
From floods to irrigation
Montana and the Dakotas support the environmentalists' plan -- it would allow them to keep more water in upstream reservoirs to protect their recreation industry, mainly sport fishing.
Barge and farming interests, meanwhile, worry that a spring rise would flood homes and farmland during the planting season, and that low summer flows would devastate the barge-shipping industry and require farmers to find more irrigation wells.
Huffman says his Missouri River business, with more than 200 barges, has been halved over the last year, much of it lingering fallout from a several-week shutdown last summer of river traffic after the U.S. Fish and Wildlife Service blocked the corps from adding water to the river.
Uncertainty over the legal wrangling hasn't helped, he says.
"Every shipper we did business with last summer asked if the river was going to be closed every summer or be in business in 2003," Huffman says. As a result, many of the shippers eventually went with rail cars, trucks or both, abandoning barges for peace of mind.
In Engemann's case, a spring rise could produce waters too high, swift and debris-filled for his business, which sells most of its sand to the state for highway and construction projects. At the same time, reduced river flows cut into the amount of sand and sediment carried in from upriver.
At 55, Engemann dismisses worries about the least tern, piping plover and pallid sturgeon as "environmental propaganda." He suspects that upriver states perhaps are looking to hoard the water, maybe to someday sell it to water-strapped areas.
"One judge rules one way and another rules the other; they just make up the rules," Engemann says. "We're all for the environment here, but you have to have some respect for what you need and don't need."
Copyright 2018 The Associated Press. All rights reserved. This material may not be published, broadcast, rewritten or redistributed. We strive to uphold our values for every story published.