NABLUS, West Bank — Israeli troops raiding a West Bank bomb lab Friday killed three Palestinians, including two Hamas members, prompting threats of revenge from the Islamic militant group's military wing. An Israeli soldier also died.
However, the 5-week-old truce between Israelis and Palestinians was thought likely to survive. Hamas political leaders suggested privately they would not call off the cease-fire, and in public statements refrained from making threats against Israel.
The gunbattle marred a period of relative calm since Palestinian militants declared a unilateral cease-fire on June 29.
Also Friday, Hezbollah guerrillas and Israeli troops traded artillery fire over a disputed area along the Israeli-Lebanese border. And an Israeli official said the course of an Israeli security barrier that has been condemned by the Palestinians and criticized by the United States might be altered to encompass less West Bank land.
Friday's firefight near Nablus in the northern West Bank began before dawn, when soldiers surrounded a Hamas hideout to arrest two suspected bombmakers, Khamis Abu Salem and Fayez Sadder, said Col. Arieh Knafo.
As the soldiers approached, shots rang out from inside the three-story apartment building, Knafo said. An Israeli soldier, 20-year-old Roi Oren, was killed.
The soldiers returned fire, killing one of the Hamas activists, and the second was buried under the rubble when an explosion tore through the building, which housed a bomb lab containing dozens of pounds of explosives.
A third Palestinian died in a hospital of a gunshot wound, hospital officials said.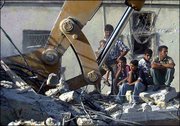 Copyright 2018 The Associated Press. All rights reserved. This material may not be published, broadcast, rewritten or redistributed. We strive to uphold our values for every story published.