Topeka — Gov. Kathleen Sebelius signed a warrant Friday approving the extradition of a woman accused of impersonating an Indiana couple's daughter, preventing Donna Lynette Walker from leaving jail just hours after a judge lowered her bond.
Walker, 35, of Topeka, is being held as a fugitive from Indiana, where she is charged with one count of felony identity deception and one count of misdemeanor false reporting. Also, police in Urbandale, Iowa, issued a warrant for her arrest last year for being a felon in possession of a firearm.
Walker has said she was adjusting to new medication for mental illness last month when she telephoned the father of Shannon Marie Sherrill, who was 6 in 1986 when she disappeared from outside her mother's home in Thorntown, Ind. Walker's lawyer has said his client believed she might be the daughter and wanted to find out for sure.
Earlier Friday, Shawnee County District Judge Nancy Parrish reduced Walker's $100,000 bail on the Indiana charges to $50,000 after reviewing results of a mental health exam on Walker. Parrish also set bail at $9,750 for the Iowa warrant.
Under Kansas law, Walker could have left jail -- under around-the-clock electronic monitoring and orders not to use the phone -- by providing the court 10 percent of the total amount, or $5,975, backed by a bail bondsman.
Walker's attorney, Billy Rork, said after the court hearing he hoped his client would leave the Shawnee County Jail on Monday. But Sebelius received an extradition request from Indiana on Friday and signed a warrant, which a sheriff's deputy served on Walker Friday evening at the jail. Jail Director Elizabeth Gillespie said Walker could no longer post bond.
Rork said Walker would fight extradition and that she should not go to Indiana because she is mentally ill and needs treatment. He has said his client suffers from personality disorders, post-traumatic stress disorder and dissociative amnesia.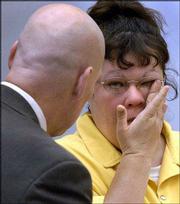 "She wouldn't be in jail if she didn't have a mental illness," Rork told reporters Friday.
Sebelius, her staff and the Kansas Attorney General's Office reviewed Indiana's extradition requested.
Sebelius acted quickly on the request because "there really was no reason not to," said Nicole Corcoran-Basso, the governor's spokeswoman.
As for whether Walker is mentally ill, Corcoran-Basso said, "We are confident that Indiana, like Kansas, will give it the proper weight it deserves. It really is not something for us to settle here."
Rork said the Iowa warrant was issued in 2002, when Walker lived in that state and called authorities threatening to commit suicide with a gun.
Copyright 2018 The Associated Press. All rights reserved. This material may not be published, broadcast, rewritten or redistributed. We strive to uphold our values for every story published.