Crawford, Texas — President Bush claimed "good progress" in Iraq on Friday, 100 days after he had declared an end to major combat, but he also mourned American casualties and refused to say how long U.S. troops would stay.
"This administration will do what is necessary to win the war on terror," Bush said.
He would not say whether he agreed with Army Lt. Gen. Ricardo Sanchez, allied forces commander in Iraq, who said Thursday that U.S. forces would remain in Iraq at least two years.
The White House treated the 100-day postwar mark as a political milestone, issuing a list of accomplishments as it did after Bush's first 100 days in office.
Bush would not speculate, however, about costs Americans should expect in coming months, in dollars or lives.
"We suffer when we lose life," Bush said, speaking on his Texas ranch alongside Vice President Dick Cheney and Defense Secretary Donald Rumsfeld after a meeting on military strategy. Also on hand were Bush's national security adviser, Condoleezza Rice, and Gen. Richard Myers, chairman of the Joint Chiefs of Staff.
"Our country is a country that grieves with those who sacrifice, and our heartfelt sympathies and appreciation go to the loved ones of any soldier who's willing to defend the security of the United States -- and that's what they're doing in Iraq," Bush said.
He also said he could not estimate how much the war would cost in the next fiscal year but promised to present a well-thought-out cost estimate to Congress. A key factor will be how much financial and military assistance the United States receives from other countries, Bush said.
Democrats have sharpened their criticism of Bush's stewardship on Iraq in recent days, with the deposed president, Saddam Hussein, still at large and with no weapons of mass destruction having been discovered. Bush called the criticism pure politics from Democrats who want his job.
"As far as all this political noise, it's going to get worse as time goes on," Bush said.
The White House sought to counter the criticism with a broad, multifront defense.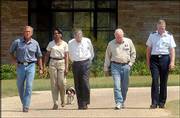 Copyright 2018 The Associated Press. All rights reserved. This material may not be published, broadcast, rewritten or redistributed. We strive to uphold our values for every story published.