St. Petersburg, Fla. — The Kansas City Royals gave one away.
Pinch-hitter Al Martin hit a two-run triple, and Julio Lugo followed with an RBI single as the Tampa Bay Devil Rays rallied in the bottom of the ninth inning to beat the Royals, 3-2, Thursday night.
An error by second baseman Carlos Febles keyed the comeback. The Royals, fresh off two losses in Chicago, had their lead in the AL Central cut to a half-game over the idle White Sox.
Kansas City is 9-12 since the All-Star break.
"Whenever you lose a game like that, of course it bothers you," Royals manager Tony Pena said. "We have to put it behind us and think about tomorrow.
"We cannot think about anybody else. We cannot think about the Chicago White Sox. We cannot think about the Minnesota Twins. We have to think about the Kansas City Royals," Pena said. "If we're watching the standings, it's going to be a long month and a half."
The Twins trail the Royals by 3 1/2 games.
Closer Mike MacDougal (3-5) allowed a leadoff single in the ninth to Toby Hall. Travis Lee reached when Febles misplayed his grounder for an error.
After a sacrifice by Damian Rolls, Martin lined a triple that went all the way to the wall in right-center field.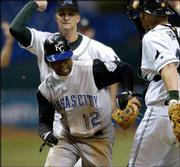 "I was trying to strike him out," MacDougal said. "I threw him a curveball, and he met it."
After starting the season 0-for-17 as a pinch-hitter, Martin has four hits in his last six tries.
Lugo then hit the next pitch to right to drive in Martin.
"My main concern was making contact," Lugo said. "I got lucky. I made contact and got a basehit. I just didn't want to strike out."
Chad Gaudin (1-0) went two scoreless innings for his first major league win.
"A nice ending for us and a nice win," Devil Rays manager Lou Piniella said. "Our kids play hard. It's fun for me and it's fun for my staff to watch that type of enthusiasm. They stay after it."
The Royals wasted a strong performance by starter Darrell May, who allowed four hits over six scoreless innings.
"I just try to look at the positives," May said. "I felt like I pitched pretty well. I'll take that into the next four days, getting ready for the next game."
Jason Grimsley and Curtis Leskanic each pitched an inning of relief before MacDougal blew his seventh save in 32 opportunities.
The Devil Rays didn't have a runner reach third until the ninth.
Ken Harvey had an RBI double and Angel Berroa hit a run-scoring single that put the Royals up 2-0 in the fourth. Berroa has 17 RBIs over his past 15 games.
Devil Rays starter Rob Bell allowed two runs and seven hits over seven innings.
Tampa Bay, which has the AL's second-worst record at 44-69, is three games over .500 (12-9) since the break.
Bell kept the Devil Rays within two runs when he retired Harvey on a fly ball with runners on second and third with two outs in the fifth.
Tampa Bay's first two batters reached base in the sixth. May worked out of the jam by retiring Hall on a fly ball and inducing an inning-ending double play from Lee.
Devil Rays second baseman Antonio Perez was ejected in the fifth inning by plate umpire Lance Barksdale. After taking a called third strike, Perez gently tossed his bat in front of Barksdale's feet and was immediately thrown out of the game.
"The umpire felt that Antonio flipped the bat back at him," Piniella said. "And he did flip it. I don't know if was at him or not, but he probably learned a little bit from it."
Notes: Piniella said LHP Joe Kennedy will remain in the rotation. The opening-day starter has struggled since returning last month from a left shoulder injury. ... Royals CF Carlos Beltran came up just short twice in a bid for his 100th career homer. He hit drives that went around 400-feet each in the first and third innings that Tampa Bay center fielder Rocco Baldelli caught near the wall. ... Baldelli, considered an AL rookie of the year candidate, has just one hit in his past 20 at-bats. He went 0-for-4 Thursday. ... Bell hit Royals DH Joe Randa with a pitch in the third. Tampa Bay has hit an AL-leading 66 batters.
Copyright 2018 The Associated Press. All rights reserved. This material may not be published, broadcast, rewritten or redistributed. We strive to uphold our values for every story published.