Los Angeles — Arnold Schwarzenegger ended the suspense Wednesday and jumped into the race for California governor, instantly becoming the best-known of the declared candidates seeking to replace Democrat Gray Davis in a recall.
The surprise announcement by the "Terminator" actor, a moderate Republican, capped a day of fast-paced developments in one of the most unpredictable political races in recent history.
Earlier, Democratic Sen. Dianne Feinstein had ruled out a run, labeling the election "more and more like a carnival every day." Political commentator Arianna Huffington declared she would run as an independent. And Gary Coleman, star of the 1980s sitcom "Diff'rent Strokes," plunked down $3,500 in Alameda County in the San Francisco Bay Area and declared himself a candidate.
Schwarzenegger, 56, announced his decision during a taping of "The Tonight Show with Jay Leno," calling it the toughest he's made since deciding to get a bikini wax in 1978.
"The politicians are fiddling, fumbling and failing," he said. "The man that is failing the people more than anyone is Gray Davis. He is failing them terribly, and this is why he needs to be recalled and this is why I am going to run for governor."
Schwarzenegger's advisers had said in recent days that he was leaning against putting his name on the Oct. 7 election ballot because of opposition from his wife, journalist Maria Shriver.
Schwarzenegger told Leno that he's not afraid of Davis allies attacking him as "a womanizer" or "a terrible person." "I know that they're going to throw everything at me," he said.
Davis' campaign committee responded by saying Schwarzenegger was merely the latest in a long list of people who have declared their intent to run, noting that Hustler publisher Larry Flynt was among them.
"The more candidates who join, the greater the likelihood that a small minority of voters will be controlling California's future," read a statement from Californians Against the Costly Recall, which was speaking for the governor.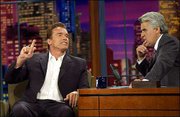 The statement also reminded voters of the cost of a special recall election, estimated by the secretary of state's office at $67 million -- "money which would be better spent on our schools and our children."
Schwarzenegger said he made the decision in the past few days and kept it a secret from everyone.
Even Schwarzenegger's appearance on "The Tonight Show" was tinged with suspense.
"Well, Jay, after thinking for a long time my decision is ... " he began to tell Leno before the TV screen showed a "Please Stand By" sign. When the picture finally returned, he said: "That's why I decided that way."
When the actor finally confirmed he was running, "The Tonight Show" audience in Burbank erupted in whoops and cheers.
The recall election is yet another setback for Davis, who has seen his popularity plummet as the state grapples with a record $38 billion budget deficit.
It also is the latest force to bedevil Californians, who in recent years have endured an energy crisis, the collapse of the dot-com economy and a federally mandated cutback in one of the state's main water supplies. Residents now face the prospect of higher car taxes and college fees to close the budget gap.
Davis is the first California governor to face a recall and would be only the second governor nationwide to be removed from office if the effort succeeds.
Meanwhile, California's Supreme Court justices huddled behind closed doors for hours Wednesday to decide whether to consider several challenges to the recall election, including a petition to bar any replacement candidates from the ballot.
The justices were expected to announce today whether they would hear the petitions.
Copyright 2018 The Associated Press. All rights reserved. This material may not be published, broadcast, rewritten or redistributed. We strive to uphold our values for every story published.