Washington — President Bush sent a seven-member Marine team into war-ravaged Liberia on Wednesday, a small deployment that illustrates the narrowly defined role the Bush administration envisions for U.S. troops in the African nation.
The team, the first U.S. troops to serve in support of a West African-led peace force in Liberia, arrived by helicopter in the capital, Monrovia, from Navy warships off the coast. If not for its security escort, the team could have fit in a single helicopter.
The military liaison team is not expected to expand much beyond 20 members, Pentagon officials said. The Marines join several dozen American troops who were sent to protect the U.S. Embassy in the capital amid some of the worst fighting in Liberia's 14-year civil war.
Bush, speaking to reporters in Crawford, Texas, said the troops were meant to help the West African force "to go in and provide conditions for humanitarian relief to arrive, whether it be by sea or air."
Bush and U.S. Secretary of State Colin Powell, who was at his side, said they still wanted Liberian president Charles Taylor to leave the country before committing to additional U.S. troops.
Pentagon officials said no decision had been made on whether to send in a larger number of troops over time. But unless the security situation further deteriorates, defense officials said on condition of anonymity, U.S. forces would remain at or near their current number until U.N. peacekeeping troops arrived in October.
The administration's wariness on Liberia, despite weeks of urging from U.N. secretary-general Kofi Annan and others, stems in part from a military stretched thin with commitments in Iraq and Afghanistan. The memory of a 1993 attack in Somalia that left 18 U.S. troops dead has also remained fresh, serving as a reminder that the woes of lawless African nations are not easily or quickly resolved.
Critics of limited deployment have argued that the United States bears a responsibility in Liberia because of the nation's special relationship with the United States since its founding in the 19th century by freed slaves from America.
The head of the Economic Community of West African States, Mohammed ibn Chambas, said in Nigeria that Taylor would formally announce his intention today to resign and take asylum in Nigeria.
Taylor has remained in Liberia despite repeated promises to leave.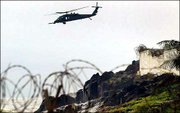 Copyright 2018 The Lawrence Journal-World. All rights reserved. This material may not be published, broadcast, rewritten or redistributed. We strive to uphold our values for every story published.