Los Angeles — The leadership of the AFL-CIO and California's largest labor organization Tuesday asked Democratic officials not to run in the state's recall election, a boost to Gov. Gray Davis' goal of keeping fellow Democrats off the ballot to improve his chances of avoiding removal.
Davis' campaign believes his chances of defeating the recall effort are stronger if no Democrats are offered as alternatives. Some Democratic leaders, however, are worried that if they don't offer a candidate they will be giving the Republicans an open field should Davis lose.
A major part of Davis' strategy is to galvanize his base of labor supporters and to demonize the Republicans seeking to remove him as right-wing conservatives out of step with the basic values of Californians.
"We believe this is a referendum to reverse the vote of a majority of voters," said Art Pulaski, executive secretary of the California Labor Federation, speaking of the recall election. The vote is expected to cost the state at least $60 million, officials said.
Davis won a second term last November, narrowly defeating Republican William Simon.
In line with Davis' approach to the recall, Pulaski and the executive committee of the AFL-CIO portrayed those seeking the governor's ouster as people from the extreme right wing trying to usurp the will of those who voted for Davis nine months ago.
With only four days remaining before would-be candidates must declare their intentions, two high-profile people were expected to reveal their decisions today.
Actor Arnold Schwarzenegger said he will announce his plans before expounding on the decision tonight on "The Tonight Show with Jay Leno."
Meanwhile, columnist Arianna Huffington scheduled a news conference for today at which she is expected to announce that she will be a candidate to replace Davis should he be recalled.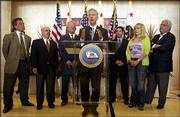 Huffington is the former wife of Michael Huffington, a wealthy California Republican who held a seat in the House of Representatives and spent $29 million of his own money in an unsuccessful bid for a Senate seat in 1994. He has signaled that he also may get into the race to replace Davis.
Once Schwarzenegger makes his intentions clear, former Los Angeles Mayor Richard Riordan is expected to declare himself a candidate in the Oct. 7 vote.
Among other leading Republicans expected to run is Simon and Rep. Darrell Issa, a wealthy conservative who helped push the drive for a recall election.
Still, how the next few days will play out remains uncertain.
Copyright 2018 The Lawrence Journal-World. All rights reserved. This material may not be published, broadcast, rewritten or redistributed. We strive to uphold our values for every story published.