Hiroshima, Japan — The mayor of Hiroshima denounced the United States for pursuing new nuclear weapons technology and blamed Washington for pushing the Nuclear Non-Proliferation Treaty to "the verge of collapse,'' as he marked the 58th anniversary today of the world's first atomic bomb attack.
Tadatoshi Akiba said Washington's development of nuclear warheads, its research into other advanced nuclear weapons technology and its war in Iraq threatened world peace.
"The Nuclear Non-Proliferation Treaty, the central international agreement guiding the elimination of nuclear weapons, is on the verge of collapse,'' Akiba said during the annual ceremony at the Peace Memorial Park. "As the U.S.-British-led war on Iraq made clear, the assertion that war is peace is being trumpeted as truth.''
At 8:15 a.m., a bell tolled, marking the minute on Aug. 6, 1945, when the U.S. atomic bomb's explosion devastated this city, 429 miles southwest of Tokyo. For 60 seconds, tens of thousands of survivors, residents, activists and officials from around the world bowed in silence to commemorate the 160,000 people who were killed or injured in the blast.
Reminding the crowd of the "blazing hell fire that swept over this very spot 58 years ago,'' Akiba called all nuclear weapons "utterly evil, inhumane and illegal under international law.''
This year's ceremony comes less than a week after North Korea agreed to U.S. demands for six-nation talks to resolve the standoff over the isolated communist regime's suspected nuclear weapons development program. China, Russia, Japan and South Korea are expected to take part, though no date for the meetings has been set.
Akiba urged North Korean leader Kim Jong Il, U.S. President George W. Bush and the heads of other nuclear-armed countries to visit Hiroshima and confront the A-bomb attack's aftermath.
The Bush administration wants Congress to approve $68 million for research into advanced nuclear weapons technology, including research on a ground-penetrating nuclear warhead, known as a bunker-buster, and smaller, advanced concept nuclear weapons, called mini-nukes, of less than 5 kilotons.
Ceremonies will be held Saturday on the anniversary of the atomic bombing of Nagasaki, on the southernmost main island of Kyushu. About 70,000 people were killed by an atomic bomb dropped on Nagasaki from a U.S. aircraft, three days after the one that leveled Hiroshima.
Six days later, on Aug. 15, 1945, Japan's surrender ended World War II.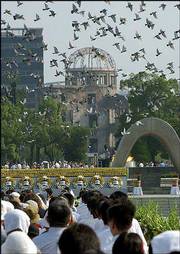 Copyright 2018 The Associated Press. All rights reserved. This material may not be published, broadcast, rewritten or redistributed. We strive to uphold our values for every story published.