Perry — Pete McHardie has been trying for years to come up with a way to save water and money while the Perry city water tank is shut down for inspections.
"I've been here 18 years, and I've always thought there's got to be a better way," McHardie, Perry maintenance superintendent, said.
Thanks to a Rosebud, Mo., company, McHardie thinks a better way has been found.
Earlier this week, at the edge of a cornfield by Perry-Lecompton High School, an 18,000-gallon portable water tank was connected to a fire hydrant. Sometime next week the portable tank from Tomcat Consultants will take over for the city's 500,000-gallon water tank while it goes out of service for at least a month.
In the past when the city's water tank was shut down, pumps had to be kept running 24 hours a day to keep water flowing into the system from two wells.
That process caused untold thousands of gallons of water to be wasted as it flowed into the storm drains, McHardie said.
"This will help us save water, especially in this drought," McHardie said.
The cost of water is about $6.50 to $7 per thousand gallons, McHardie said. There are about 400 customers hooked up to the city's water system.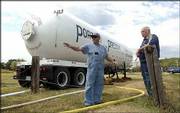 Tomcat will receive $9,250 for one month's rent of the portable tank. If needed longer, the charge will be $2,100 per week.
The fire hydrant connected to the portable tank was installed for future development in the area. Its use doesn't affect the high school's fire protection system, McHardie said.
McHardie said he heard about Tomcat several months ago from an official with the Kansas Rural Water Assn.
Perry's city water tank is long overdue for an inspection. The last one had been nine years ago, although the Kansas Department of Health and Environment requires inspections once every five years, McHardie said.
In addition to the upcoming inspection, routine maintenance will be performed on the tank, McHardie said, as well as any needed repairs.
Clyde Zelch, president of Tomcat, said he had contracted with other Kansas communities in the past, but most of them were in the central portion of the state.
"We're not the only ones in this business, but we're rare," Zelch said.
Zelch said an official with the city of Wilson told him that city saved 10.4 million gallons of water by using a portable tank.
"Perry will not be without water, no matter what, unless we have a major blowout somewhere," McHardie said.
Copyright 2018 The Lawrence Journal-World. All rights reserved. This material may not be published, broadcast, rewritten or redistributed. We strive to uphold our values for every story published.