Pittsburgh — As comebacks go, this was one to remember.
Jason Kendall's RBI single with two outs in the ninth inning capped a six-run rally Friday night and gave Pittsburgh a 12-11 victory over Colorado.
Tike Redman hit a two-out, two-run triple off Adam Bernero (0-1) to tie it. Redman, called up earlier in the day from Triple-A Nashville to be Pittsburgh's new everyday center fielder, fouled off four two-strike pitches before lining a shot into the right-center gap.
"Basically, I'm just up there battling and trying to keep the game going at that point," Redman said. "I was determined to keep fouling pitches off until I got something I could handle. I was looking for a fastball, and he finally threw one to me on the inside half of the plate that I could drive."
It was the Pirates' biggest ninth-inning comeback since July 28, 2001, at PNC Park, when they rallied for seven runs with two outs to beat Houston, 9-8. Redman also played a role in that comeback, drawing a walk in the ninth inning.
Redman had two triples, two RBIs, two runs scored and two walks in his first big-league game this season.
Rockies reliever Justin Speier entered Friday with a five-run lead to start the ninth and was charged with five runs.
After Redman's two-run triple, Kendall lined an 0-1 pitch to left to win it, sending what was left of the crowd of 22,413 into a frenzy.
Kendall was mobbed by his teammates near first base.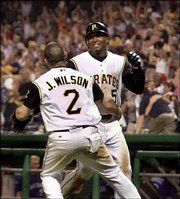 "We just kept battling and battling and battling until we got it done," Kendall said. "There were a lot of good at-bats from top to bottom in that inning. Tike's at-bat was unbelievable. He refused to give in. We've been on the wrong side of a lot of these types of games this year. It sure feels good to win one at the end. It's a heck of a lot of better feeling than to be on that other side."
Duaner Sanchez (1-0) gave up a run in the ninth but earned his first major-league victory.
Cubs 4, D'backs 3 (14)
Chicago -- Aramis Ramirez hit an RBI single to end a game that included a three-hour rain delay. Ramirez scored on pinch-hitter Troy O'Leary's tying, two-out, two-run double in the 11th. In the 14th, Ramirez singled in Sammy Sosa, extending Arizona's record road losing streak to 10. Sosa and Moises Alou singled with one out in the 14th off Eddie Oropesa (2-2) and Eric Karros walked. Ramirez lifted a fly ball to right field that went over the drawn-in outfield to win it for Antonio Alfonseca (1-1).
Braves 2, Dodgers 0
Atlanta -- Greg Maddux reached 10 wins for the 16th straight season, and Andruw Jones homered before leaving because of an injury.
The Dodgers lost their fourth straight, and they've scored only 11 runs in their past nine games.
Maddux (10-8) returned after a rain delay of 1 hour, 26 minutes in the third inning. He gave up two hits in five innings, throwing only 67 pitches in his 283rd career win.
Jones hit a solo shot off Hideo Nomo (12-9) in the second before leaving with a strained muscle in his right side. Nomo did not return after the delay.
Cardinals 8, Mets 2
New York -- Miguel Cairo and reliever Steve Kline had two-run doubles in a six-run eighth inning for St. Louis.
Edgar Renteria went 3-for-4 with a homer and a double for the Cardinals.
Cliff Floyd homered for the struggling Mets, who have lost six of seven and 18 of 23.
Kline (4-4) came to the plate without an official at-bat this season. But the pitcher hit a sharp grounder off Dan Wheeler (0-2) just inside the third-base line to make it 7-2.
Reds 5, Giants 3
Cincinnati -- Barry Larkin homered for the first time since April, and Juan Castro hit a tiebreaking shot in the eighth inning, rallying Cincinnati.
Castro's two-out, two-run homer off Felix Rodriguez (6-1) gave the Reds their 26th victory in their final at-bat, the most in the majors.
Chris Reitsma (9-3) gave up an RBI single in the eighth to Benito Santiago that tied it at 3. The Reds blew an early 3-0 lead before sending the NL West leaders to only their fourth loss in 15 games since the All-Star break.
Expos 8, Brewers 4
Montreal -- Jamey Carroll homered off an Olympic Stadium speaker, and Brad Wilkerson homered and drove in three runs for Montreal.
The Expos' Tomo Ohka (8-10) allowed eight hits and one run in seven innings.
Wilkerson hit an RBI double off Wayne Franklin (7-8) in the second and got his 13th homer -- a two-run shot -- in the fifth. Carroll's first homer struck a speaker 120 feet above the field.
Astros 2, Marlins 1
Miami -- Jeff Kent's home run and Josh Beckett's balk were enough for Houston to defeat Florida. Tim Redding (8-9) gave up one run on six hits in seven innings. Billy Wagner worked the ninth for his 32nd save Beckett (5-5) took the loss -- only the second in 10 games for Florida. Kent homered in the second, and Beckett balked home Bagwell -- who had tripled -- in the fourth.
Phillies 6, Padres 0
Philadelphia -- Kevin Millwood did not allow a baserunner until the sixth inning, and finished with a three-hitter. Jim Thome drove in two runs and Marlon Byrd had four hits as the NL wild card-leading Phillies got their fourth straight win. Millwood (11-7) retired his first 16 batters he faced. Kevin Jarvis (4-3) gave up five runs and eight hits in 61/3 innings to lose for the first time in five starts.
Copyright 2018 The Associated Press. All rights reserved. This material may not be published, broadcast, rewritten or redistributed. We strive to uphold our values for every story published.