Indianapolis — Of all the trophies Bobby Labonte has won, he keeps just two at home: from the 2000 Winston Cup championship and that year's Brickyard 400.
"I've got most of the trophies and stuff boxed away, but those two are special. This is a special race," Labonte said Friday before climbing into his Joe Gibbs Racing Chevrolet for the opening practice for the 10th Brickyard 400. "I rode around here with Bill Elliott the first time we were here. He's been around this sport longer than I have, and he was amazed, and so was I."
Nobody disputes that the Daytona 500, which has been around 45 years, is the biggest stock car race, but it has taken the event at Indianapolis Motor Speedway much less time to reach No. 2.
Elliott, the defending Brickyard champion, understands the Indy mystique.
"When you get out on the racetrack and think about all the history that this track has seen over the years, that's kind of a special feeling to me," Elliott said. "I don't know any other track that's got the history this track has."
The first Indianapolis 500 was in 1911, and its winners have become household names: Foyt, Unser, Mears, Andretti.
There was little reason to believe stock cars ever would find a home at the sprawling speedway until NASCAR chairman Bill France Jr. and speedway president Tony George stunned racing purists and rewrote Indianapolis tradition in 1994.
Even before former Indiana resident Jeff Gordon won the inaugural race that year -- an emotional day for him and the sellout crowd of more than 300,000 -- there was a sense in the Winston Cup garage that this race was going to be very important.
"Man, we knew it was going to be big," 1997 Brickyard winner Ricky Rudd said. "Five or six teams came here for a Goodyear tire test (in August 1993) and I think there were about 30,000 people in the stands. It was awesome.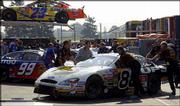 "Daytona will always be our Super Bowl, but I've heard people say that the explosion of NASCAR came right at the time we came to the Brickyard, and I'm sure that's at least a big percentage of it."
Two-time Brickyard winner Dale Jarrett said: "There's just so much history here. We were all a little big starstruck at the opportunity to race here, and we still are."
Despite all the praise for the track and the race, the actual competition has lacked drama. The narrow, slightly-banked, flat-ended 21/2-mile oval does not lend itself to good racing for the 3,400-pound stock cars.
The 1,525-pound Indy cars often run side-by-side at 220 mph and pass with relative ease, while most of the Brickyard races have been characterized by fields running mostly single-file at about 170 mph -- although the stock cars do get up over 200 before breaking hard for the corners.
"The key these days at most tracks is track position, fuel mileage and tire strategy. We have to qualify good, get us a good starting spot, race the racetrack and make the adjustments we need and be there at the end," Labonte said.
"When I won it, we did it on mileage," said Rudd, who was an owner-driver in 1997 and now races for the Wood Brothers. "There were 10 other cars that could have done what we did and just taken tires on the last stop, but they didn't do it and we did. It's probably going to take some kind of strategy like that to win it on Sunday."
Jarrett, who won in 1996 and 1999, said, "That's why qualifying is so important here. Track position can mean so much on this track because it's so hard to pass."
But the sometimes dull racing at Indy doesn't seem to bother the fans who continue to make the Indy race by far the best-attended event in NASCAR.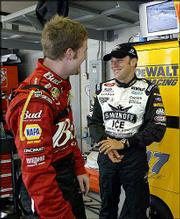 Copyright 2018 The Associated Press. All rights reserved. This material may not be published, broadcast, rewritten or redistributed. We strive to uphold our values for every story published.