Kansas City, Mo. — Travis Lee's timely hitting kept Tampa Bay on the right track.
Lee homered and drove in four runs as the Devil Rays won their fourth in a row, beating the slumping Kansas City Royals, 9-6, Friday night.
The Royals lost their fourth straight game, matching the worst skid of the season for the AL Central leaders. Raul Ibanez homered and drove in five runs for Kansas City.
"I don't want anybody to feel panic right now," Royals manager Tony Pena said. "We've lost four in a row, but I don't want to see players doing more than they are capable of doing."
Lee had three hits, including a three-run homer in the first inning. He delivered a go-ahead single as the Devil Rays scored four times in the seventh.
Lee is hitting .455 with three home runs and 11 RBIs through the first nine games of the Devil Rays' 11-game road trip. Marlon Anderson added three hits for Tampa Bay.
"Four in a row, that's what's important," Lee said. "As long as we're hitting the ball pretty well and our pitchers are doing well, it loosens up the atmosphere.
"The difference between this year and last year is that we might have given up after blowing that lead. We don't do that this year with (manager) Lou (Piniella) on our tails. He won't let us do that."
Graeme Lloyd (0-1), acquired in a trade with the New York Mets Monday, took the loss. He retired only one of the four hitters he faced, giving up three runs on three hits.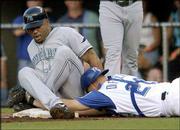 Lloyd gave up doubles to Aubrey Huff and Rocco Baldelli, plus an RBI single by Lee. Jason Grimsley relieved Lloyd and gave up another run on a single by Julio Lugo.
Brandon Backe (1-0) pitched four scoreless innings for the victory, the first decision of his major-league career. He gave up one hit and one walk and struck out two.
"It feels wonderful to get your first decision as a win," Backe said. "I threw a lot of strikes, with my whole repertoire."
Backe was just one of the youngsters in the bullpen who came through.
"The kids battled hard all night," Piniella said.
Lance Carter worked the ninth for his 19th save in 25 opportunities.
To compound Pena's problems, his best pitcher since mid-June, Jose Lima, left the game after two ineffective innings with continued symptoms from a strained groin.
"He couldn't even push off his back leg. He couldn't throw the fastball. Basically, he was trying to pitch with a changeup," Pena said.
Lima was relieved by Kris Wilson, Kansas City's scheduled starter for today. Darrell May will start today on three days' rest.
Tampa Bay wasted no time in getting to Kansas City starter Jose Lima. Leadoff batter Carl Crawford reached on an infield single and Anderson followed with an RBI double.
Lee's 11th homer of the season made it 4-0 and was the 14th home run allowed by Royals pitchers in the last four games.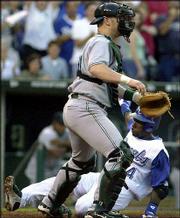 Ibanez hit a three-run homer in the bottom of the first and Angel Berroa hit a two-out, inside-the-park homer later in the inning.
Berroa hit the second inside-the-park home run for the Royals this season. Carlos Beltran had the other on April 29 at Boston.
Devil Rays starter Joe Kennedy exited after giving up a pair of singles to start the second. The team announced that he left as a precaution with upper-back soreness.
Chad Gaudin, making his major league debut, relieved Kennedy. He is the youngest pitcher in the major leagues at 20 years and five months.
"My heart was racing 1,000 miles per minute," Gaudin said. "I just tried to do my best. It was OK. I felt like I rushed a lot. Hopefully I'll take care of that on my next outing."
Gaudin retired Joe Randa on a fly out before Beltran singled to load the bases. Ibanez then walked, forcing in a run.
Lima gave up five runs on six hits through two innings.
Notes: Beltran was caught stealing to end the bottom of the sixth. It ended his streak at 28 consecutive steals. ... Tampa Bay had two infield hits, giving them 123 this season, most in the major leagues. ... Tampa Bay stole two bases, giving them 90, best in the AL. ... Baldelli extended his hitting streak to nine games. ... The Devil Rays have homered in nine straight games, tied for the second-longest streak in club history. The team record is 10 games, set in 2000.
Copyright 2017 The Associated Press. All rights reserved. This material may not be published, broadcast, rewritten or redistributed. We strive to uphold our values for every story published.