MINNEAPOLIS, MINN. — A New Hampshire clergyman seeking to become the first openly gay elected bishop in the Episcopal Church won the first of three required votes at the denomination's national meeting Friday.
The decision moves Episcopalians closer to a defining moment for their church and their sister provinces in the worldwide Anglican Communion after years of rancorous debate about homosexuality.
Some warn the outcome could fracture global Anglicanism.
After a tense morning hearing, a committee cleared the way for delegates to the Episcopal General Convention to vote on whether the Rev. V. Gene Robinson should be bishop of New Hampshire. The panel voted in secret to endorse Robinson and did not release the tally.
The Diocese of New Hampshire elected Robinson in June, but the church requires that a majority of convention delegates ratify his election.
The next vote will be in a legislative body composed of clergy and lay people, called the House of Deputies. It could occur Sunday. If they approve, Robinson then faces his final vote -- in the House of Bishops.
Robinson said he felt "peaceful" even as one opponent after another stepped up at the hearing to condemn homosexuality and his candidacy. An equal number of Robinson's supporters responded with testimony about his leadership skills and spirituality.
Asked how he reconciles his relationship with his partner of 13 years, Mark Andrew, with biblical prohibitions against homosexuality, Robinson said that in Andrew's "unfailing and unquestioning love for me I experience a little bit of the kind of never-ending love that God has for me."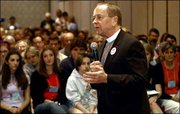 Copyright 2018 The Associated Press. All rights reserved. This material may not be published, broadcast, rewritten or redistributed. We strive to uphold our values for every story published.