London — After six years and 93 days in office, Tony Blair will notch the longest continuous service by a Labor Party prime minister today -- a personal triumph and a record for the party he transformed.
But it's not party time at No. 10 Downing St., the official residence of Britain's prime ministers.
The sheen of Blair's achievements has been tarnished by debate about the Iraq war, Labor infighting over his domestic policies and the suicide of defense adviser David Kelly.
Lord Hutton, the judge heading the inquiry into Kelly's death, said Friday that Blair would be called to testify.
"There are an awful lot of people in the Labor Party who think he is a war criminal over Iraq. They really loathe him, and that is a big problem," Blair biographer John Rentoul said.
Blair, who today passes Clement Attlee's 1945-51 record for the longest uninterrupted stint as a Labor prime minister, insists he is confident of his achievements, and says he has the will to carry on.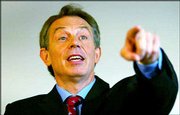 "Overall I believe that we have done what we were elected to do: to keep the economy stable, to get people back to work, to invest in our public services and in doing so create a country that is more modern, stronger and more fair," he told reporters Wednesday. "There is a big job of work still to do, and my appetite for doing it is undiminished."
When Blair became party leader in 1994, his rebranded "New Labor" party courted big business and middle-class voters, promising a reformed welfare state driven by a free market economy. He turned his back on many of Labor's hallowed but vote-losing socialist policies, such as state ownership of key industries.
The result was a landslide election victory May 2, 1997, that ended 18 years of Conservative Party rule. A second big win came four years later, and Labor holds 409 of the 659 seats in Parliament.
Blair's longevity is remarkable in part because of the rarity of Labor governments in Britain. Harold Wilson served longer, but his total of seven years, 279 days, was split between governments in 1964-70 and 1974-76.
Blair would need one more election victory to challenge Margaret Thatcher's 20th century record of 11 years, 209 days in office as a Conservative prime minister.
Blair remains the odds-on favorite to win a third election if he stays Labor leader. There is no precedent for a government with such a big Parliament majority losing an election, and Conservative leader Iain Duncan Smith has not sparked any detectable enthusiasm among voters.
Copyright 2018 The Associated Press. All rights reserved. This material may not be published, broadcast, rewritten or redistributed. We strive to uphold our values for every story published.